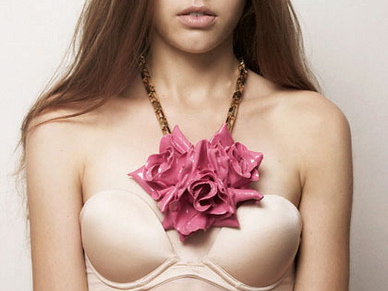 Organizers say that another week of fashion on the Old Town waterfront will "jolt you back on track to what opulence looks like."

The second annual Northern Virginia Fashion Week is scheduled to take place March 21-27, 2010, in Alexandria. The week long spectacle of events will continue to support Northern Virginia, and surrounding areas, as an unrecognized fashion Mecca by promoting fashion businesses, highlighting fashion trends and supporting students in their pursuit to make a name for themselves within the fashion industry.
Fashion Week is designed to give patrons and industry-insiders an eagle's eye view of the most sophisticated styles that Northern Virginia has to offer and opens their minds to a new and creative dynasty building in this region.

The event will be held at the chic Waterfront Park in Old Town. This gorgeous location will serve as the backdrop for several events including the Lupus Foundation Charity Gala, designer showcases and several private affairs.
Holding NOVAFW at Waterfront Park is sure to have a huge economic impact on this area's economy, as visitors can shop, dine and browse the area's elegant boutiques, fine restaurants, arts and antique shops and more. Because of the partnership with the City of Alexandria, NOVAFW has to opportunity to bring in buyers and tourists from around the world, exposing them to all that Alexandria has to offer, both in fashion and international flair.

The Lupus Foundation Charity Benefit was started because several staff and Board members of NOVAFW have been directly affected by the disease. The leaders of NOVAFW thought of no better way to bring attention to Lupus and contribute to finding a cure than to dedicate its proceeds to the Lupus Foundation of America.

In setting the stage for the upcoming event, NOVAFW has revamped its website, which now enables visitors to donate to directly to the Lupus Foundation and read about the latest happenings during fashion week. In addition, NOVAFW has positioned itself as an environmentally conscious leader in the region by informing the general public about what it means to be Fair-Trade, and by helping people learn about reducing their carbon footprint and become more eco-friendly.

Although similar events group designers together, NOVAFW stands alone as the event that has always given designers the opportunity to showcase their brand exclusively, helping them gain attention and develop business relationships after the fashion show.
Advance Access to exclusive designer shows such as Karen Millen, Andrew Norwell, Tashia Senn, Tsyndyma, Natalia Sanz, Greg Taylor and Alek Risimnic is now made available until the beginning of January.

In NOVAFW's continuing effort to support up-and-coming designers of tomorrow, educational designer shows will be offered to students from the area's fashion schools as a part of the student initiative. This initiative will jump start a Student Scholarship program which reinforces NOVAFW's commitment to the designers of tomorrow. The event also gives students from the fashion departments of surrounding schools in DC, MD, and VA a chance to see how their hard work and determination can be recognized and lead to business success.

Supporters of NOVAFW include the WDCW 50 TV, Northern Virginia Magazine, Falls Church News Press, and DC Professionals in the City. Businesses interested in becoming a corporate sponsorship should contact Kim Jeffrey, at 1-800-900-7501, ext 47, sponsors@novafashionweek.com.

For further information on Fashion Week and its initiatives please visit: www.novafashionweek.com.
Visit LocalKicks.com for more Alexandria Virginia news.
Copyright KICKS - Local Kicks