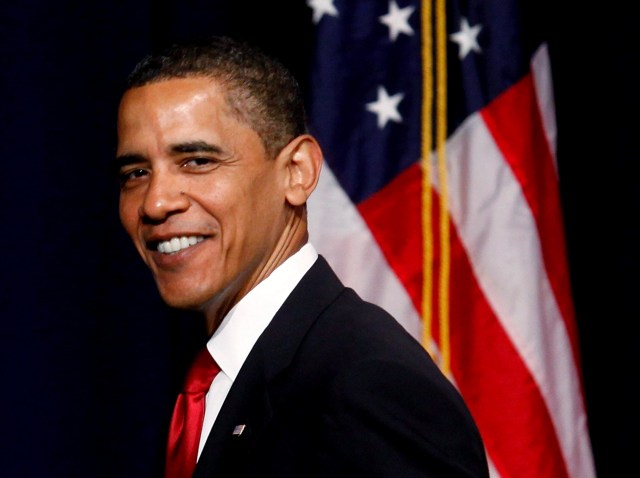 Barack Obama turns 48 this Tuesday, Aug. 4. Given the president's love of burger joints, what better way to celebrate his birthday than with a burger giveaway? Z-Burger (4321 Wisconsin Ave. N.W.) is hosting an Obama Birthday Bash, giving the first 48 customers 48 milkshake and burger tokens to use how and when they please.
Don't want to wait in line, but still hoping to get your hands on some free food? You're in luck. From 11 a.m. to 2 p.m., Z-Burger is giving ALL customers free burgers and a piece of their 100-square-foot birthday cake. What's more, Z-Burger will also unveil of the new Obama Burger. Given the recent Z-Burger run by Former President Clinton, one can only hope that that Mr. President himself may show up to get his burger fix -- perhaps unlikely, but hey, we can hope! He has been to Five Guys and Ray's, after all.
Edy's is also getting into birthday spirit by unveiling the new, limited edition Slow Churned "Red White and No More Blues" ice cream. Just perfect for a health conscious President (cigarettes notwithstanding) 'cause the ice cream boasts half the fat and one-third fewer calories of regular full fat ice cream.
Folks on the Hill are also joining in on the birthday excitement. TheHill.com reports some lawmakers are even offering their own presidential gift ideas. Keepin' with the food theme, "Carolina barbecue is fantastic, so that's what I'd give him," said Sen. Kay Hagan (D-N.C.). "That and some fresh tomatoes."
Rep. Jesse Jackson Jr. (D-Ill.) said he'd serve Obama "a taste of home. Maxwell Street polish sausage, heavy onions, heavy mustard."
Some have more politically minded gift ideas. Rep. Dennis Kucinich (D-Ohio) suggests "A freshly minted Medicare-for-all card," and Sen. John Kerry (D-Mass.) would give "a good healthcare bill passed out of the Finance Committee before recess, so the president has momentum on the biggest issue of his first year in office."
Rep. Debbie Wasserman Schultz (D-Fla.) would gift First Dog Bo with a bone, "because in politics the only friend you have is your dog, so you'd better keep him happy."
At a complete loss, Sen. Mary Landrieu (D-La.) asked, "What do you get for the man who has everything?"
Our response: Some designer cupcakes, Senator -- duh! Obama's hit the trendy burger spots, so it's only a matter of time before he gets into the cupcake craze.