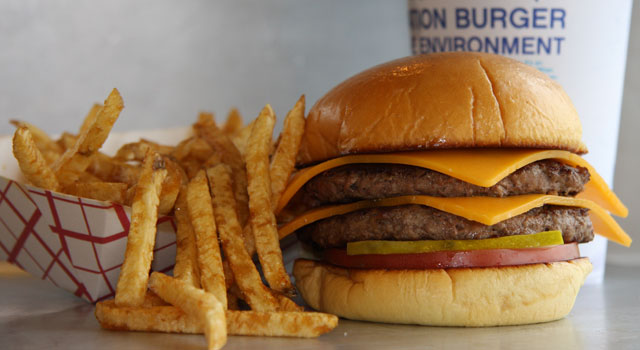 Is your little hippie heart craving an organic fast-food burger? Get thee to Northern Virginia, where two locations are already dishing up the chemical-free goods to suburban families and hungover yuppies alike at Elevation Burger.

Omnivores have no dilemma here: They get to nom down the Elevation Burgers of 100% USDA-certified organic, grass-fed, free-range beef and real cheddar. The greener sort can audition two kinds of veggie burgers, #1 and #2 (Elevation Burger isn't big on fancy names). Split on your decision? Get a Half the Guilt Burger (oh, look, a fancy name), which includes one beef and one veggie patty.

Stack 'em high to the sky if you order the Vertigo Burger, a stomach-churning tower of three to TEN patties. Either way, everything's fresh, sustainable and made-to-order, the restos grind their own beef on the premises, and there's nary a trans-fat in sight.

Elevation Burger is set to open three more DC-area locations by the end of 2010.
Current Locations:
2447 N. Harrison St.
Arlington, VA
Mon.-Sat. 11 a.m.-9 p.m.; Sun. 11 a.m.-5 p.m.
422 S. Washington St.
Falls Church, VA
Mon.-Sat. 11 a.m.-9 p.m.; Sun. 11 a.m.-5 p.m.