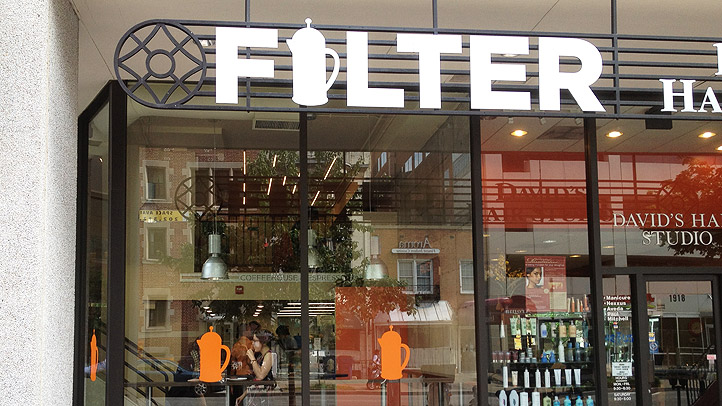 The owner of the city's newest coffeehouse is putting his foot down early: no Wifi, no laptops, Prince of Petworth first reported.

The second location of Filter Coffeehouse opened Wednesday in the building at 1919 Pennsylvania Ave. NW, with a sign stating:
"Nope, No Wifi. This is a place for talking, reading, and drinking coffee. Please leave your laptops in your bag and take a break. Say hi to your neighbor. Email can wait."
Filter's original location up in Dupont does offer Wifi -- so why the difference in policy?
The Dupont location is tucked away in a basement, reminscent of "somebody's den," owner Rasheed Jabr told us. It's a more residential location, and the kind of place people would expect to kick back in.
Not so at the new Foggy Bottom counterpart.
"This is a very high-energy, high-traffic area," Jabr said. "Everybody has their computers in their offices; they don't want to sit down with all that here." The location is more European-style, with rails downstairs for people to stand and "banter with their friends," he said.
Upstairs in the mezzanine, you'll find five small, round tables -- too small for customers to comfortably use their laptops.
"I want people to feel like they can come in and grab a table if they want, or at least see that they could," Jabr said.
His friends who work at the nearby World Band and IMF told him that the new coffeehouse would also be a great spot for a fast meeting.
"When they have guests come in, it could be 20 or 30 minutes just to get through security," Jabr said. "They'd rather come here instead. Hearing that, it kind of made me feel better [about the no-Wifi policy] after I'd made that decision."

A few Prince of Petworth commenters were skeptical about the true intentions.

"I don't care that this place doesn't have WiFi, but it annoys me that they couch it in terms of encouraging 'interaction' when it really has more to do with wanting to turn over seats faster," said a poster named Christina. "Just say you don't have WiFi and leave the moralizing alone."

Plenty of others said they approve, though -- that people need to put down their devices for a few minutes and smell the coffee, so to speak.

"I love it..." wrote an anonymous commenter. "There are plenty of other places to freeload with your laptop and spend hours on Facebook."
Jabr noted most of the comments were positive, both on the blog and from customers. "Eighty percent of people like it," he said. "Hopefully the 80 percent stays 80 percent."
---
Check Out the Scene: Keep up with what's happening in the D.C. area anytime, anywhere. Follow us on Twitter and Facebook. Sign up for our e-mail newsletters.