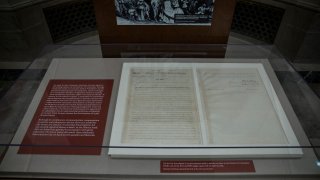 On April 16, 1862, President Abraham Lincoln abolished slavery in Washington, D.C., freeing more than 3,000 people.
It was a joyful day in the midst of the Civil War that came after decades of effort by abolitionists.
What is D.C.'s Emancipation Day?
Emancipation Day honors the day slavery ended in Washington, D.C. after President Lincoln signed the DC Compensated Emancipation Act in 1862.
We're making it easier for you to find stories that matter with our new newsletter — The 4Front. Sign up here and get news that is important for you to your inbox.
District residents marked the first anniversary after the Civil War with a parade. For the last 159 years, D.C. has marked the important date with celebrations including concerts, parades and more.
Although there won't be a big, public celebration in 2021 due to the pandemic, we have ideas below on how to celebrate.
How did D.C.'s Black community react to the news?
The Scene
The most fun things to do and places to be in D.C., Maryland and Virginia
African-Americans had been traveling to D.C. to escape war and bondage for years, and the District's Black community felt deep joy upon learning of the Emancipation Act, historian C.R. Gibbs wrote in an explainer.
He quotes a letter send my a Black man to a friend in Baltimore:
"When I had finished the chambermaid had left the room sobbing for joy. The slave women clapped her hands and shouted, left the house saying, "let me go and tell my husband that Jesus has done all things well." While the cook who is free retired to another room to offer thanks for the blessing sent. Should I not feel glad to see so much rejoicing around me?"
How can I celebrate D.C. Emancipation Day in 2021?
While this year's celebration won't have a parade due to the pandemic, there are still ways to mark the anniversary:
What did the Emancipation Act do and how is it different from the Emancipation Proclamation?
The DC Compensated Emancipation Act of 1862 was passed by Congress and signed by President Lincoln. It ended slavery in the District, reimbursed former slave owners up to $300 and provided $100 for freed men and women if they chose to emigrate to another country.
The Emancipation Proclamation was issued months later on Jan. 1, 1863. It freed all enslaved people in "rebellious" states fighting with the Confederacy but allowed slavery to continue within the Union.
Is Emancipation Day different than Juneteenth?
Juneteenth, also called Emancipation Day, is a nationwide celebration on June 19 that marks the day that news of the Emancipation Proclamation spread to Texas in 1865.
Is D.C.'s Emancipation Day an official holiday?
Emancipation Day was made an official public holiday in the District in 2005 after lobbying from community members including Loretta Carter Hanes.
What's closed for the official holiday?
Most city government and services are paused, including D.C. Public Schools and the Department of Motor Vehicles offices, WTOP reports.
COVID-19 testing sites will also be closed.
What's open?
Vaccination sites, the Downtown Day Services Center and U.S. Postal Service locations will remain open, as will outdoor parks.