Welcome to another fall weekend! Trying to figure out how to make the most of it? We've got plenty of options.
But first:
— Cage the Elephant plays one of the opening shows at the new Entertainment and Sports Arena. More great music coming to D.C.:
DC's Best Upcoming Shows: Mary J. Blige, Queen/Adam Lambert
— Halloween season is upon us! Get ready to be spooked: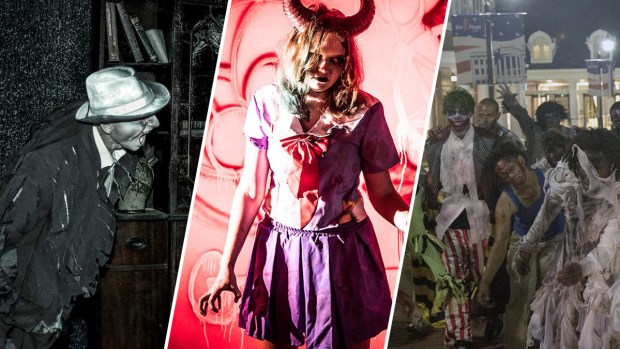 Get Spooked at These DC-Area Haunted Houses & Trails
— Fall got you feeling festive? Check out these fall festivals across the D.C. area.
— Eat a Michelin-approved meal at a good-value price.
Here are our top picks for your weekend:
National Law Enforcement Museum
Saturday and Sunday, 10 a.m., Judiciary Square
D.C.'s newest museum is devoted to the history and process of police and other law enforcement. They've lined up an impressive array of memorabilia and artifacts for true crime and cop show aficionados alike. You'll find Al Capone's pearl-handled pistol and real cells from the Lorton prison. Typically, timed tickets will cost $21.95 for adults and $14.95 for kids ages 6 to 11, with discounts for other groups. But Saturday's community day around the museum is free, with a 5K, demonstrations, face painting and more.
Pepco Trail
Now open to the public
The public can now bike along this newly opened trail in Montgomery County. The six-mile trail runs from the Hoyles Mill Trail in South Germantown Recreational Park. The trail partially closes 2.5 miles down the road and picks up again south of Seneca Creek. It ends near Muddy Branch Creek. You can check out a map here (it may load slowly).
Vikings at The Wharf
Through Monday, The Wharf
The world's largest operational viking ship, the Draken Harald Hårfagre, is invading The Wharf. The ship was built in modern times but modeled after the ships that real vikings sailed centuries ago. Celebrate the ship's arrival at 1 p.m. Friday, or visit through the weekend for talks from the captain, a documentary screening and more. You can buy timed tickets for tours, which start at $12 for adults and $6 for kids.
Maryland Renaissance Festival
Weekends through Oct. 21, Crownsville, Maryland
Hear ye! Hear ye! Don your best 15th-century garb and grab a turkey leg at the Maryland Renaissance Festival. Performances including jousting, music, science demos and Shakespeare, are plentiful. Check out the schedule in advance so you don't miss your favorite thing. Tickets are $26 for adults and $11 for kids. Organizers recommend buying your tickets in advance online because they often sell out for the fest's final weekends.
Sports and Sporting
Saturday, 6 p.m. — D.C. United plays FC Dallas.
Sunday, 1 p.m. — The Skins play the Panthers.
Friday, 7 p.m. — The Wizards play the Guangzhou Long-Lions.
Your Friday
Muslim Writers Collective DC October Open Mic
Friday, 7:30 p.m. to 9:30 p.m., 1816 12th St. NW
Tickets cost $7 for this month's open mic, themed around fears and frustrations.
French Embassy Concert Followed by Wine Reception
Friday, 7 p.m. to 9:30 p.m., Embassy of France
Looking for a classy date night? Music from Russian composer Alexander Zhurbin and a wine reception may fit the bill. Tickets start at $55.
The Clothesline Project 2018
Friday, 4 p.m. to 7 p.m., My Sister's Place, 1436 U St. NW
Domestic violence victims share their stories to raise awareness. This takes on special meaning during October, which is Domestic Violence Awareness Month.
Your Saturday
2018 H Street Festival
Saturday, H Street Corridor
H Street Festival is back! After being rescheduled due to Hurricane Florence, you'll have a chance to sample all that the area has to offer. That includes lots of live music and food, of course, alongside artists, vendors and games. It's free to enter.
The Bethesda Row Fine Arts Festival
Saturday 11 a.m. to 6 p.m. and Sunday, 10 a.m. to 5 p.m., Bethesda Row
Nearly 200 artists working in dozens of media will have their work for sale. Even if you're not shopping for art, you can scope out amazing work and enjoy live music.
Opening Reception: Arlington Art Center's Fall 2018 Exhibitions
Saturday, 6 p.m. to 9 p.m., and Sunday noon to 5 p.m., 3550 Wilson Blvd., Arlington
"Dawn Whitmore: A house is like a mind" stars alongside a slew of solo exhibitions. Artists will be on hand to discuss their work at the free ceremony, and the center will open during regular hours on Sunday.
XYZ The Party
Saturday, 10 p.m. to 3 a.m., 1365 Okie St. NE
Venus X is the headlining DJ for this queer dance party. Tickets start at $15.
Champagne in the Galleries
Saturday, 5 p.m. to 7 p.m., The Kreeger Museum
Champagne plus art plus fundraising equals the Kreeger Museum's Saturday event. Tickets start at $75 per person. Hors-d'oeuvres will be served.
D.C. Legends and Lore: Fairfax County's Bunnyman
Saturday, 7 p.m. to 10:30 p.m., Dupont Underground
Dive into the terrifying history of Fairfax County's bunnyman at Dupont Underground. Tickets start at $26.
Big Build Community Day
Saturday, 10 a.m. to 4 p..m, National Building Museum
Aspiring home remodelers can connect with contractors, plumbers, electricians and other builders showing off their skills. The National Building Museum will also have demonstrations on elevators, electricity and augmented reality. All ages are welcome at this walk-in event.
Snallygaster 2018
Saturday, Pennsylvania Avenue NW between 3rd and 7th streets NW
This one is for true beer lovers, with 350 beers and ciders (metaphorically) flooding Pennsylvania Avenue. Advance Kraken Passes get you entry at 1:30 p.m., plus 30 food and drink tickets. If you're not a planner, you can pay $15 to get in at the door. Proceeds benefit Arcadia farm.
Your Sunday
2nd Annual Barks & Brews Festival
Sunday, 6 p.m. to 9 p.m., 4339 Connecticut Ave. NW
Advance tickets start at $30 for unlimited craft beer, live music, food trucks and hanging out with plenty of pups.
Tai Chi at the National Bonsai and Penjing Museum
Sunday, 9 a.m. to 10 a.m., National Bonsai & Penjing Museum, 3501 New York Ave. NE
Exercise among the bonsai. Tickets are $15.
Blagden Alley: Fall Open Air Market
Sunday, 2 p.m. to 5 p.m., La Colombe DC (924 Rear N St. NW)
Sip some coffee and browse the best of Blagden Alley.