Joan Rivers has been moved from the intensive care unit of a hospital to a private room, her daughter said Wednesday.
Rivers stopped breathing and went into cardiac arrest while undergoing a minor throat procedure Aug. 28 in New York City. She was taken to Mount Sinai Hospital, where she was placed in a medically induced coma.
"My mother has been moved out of intensive care and into a private room where she is being kept comfortable," Melissa Rivers said in a statement. "Thank you for your continued support."
NEWS: "Fashion Police" co-hosts send heartfelt prayers to Joan Rivers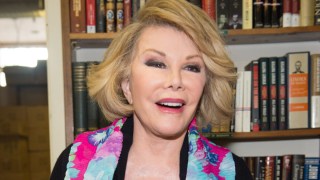 Joan Rivers: Her Career in Photos
Melissa Rivers confirmed on Tuesday that her mother remained on life support.
Joan Rivers remains in stable, yet critical, condition. On Sunday, Melissa thanked fans for all their prayers and well wishes. "Thank you for your continued love and support," she said in a statement. "We are keeping our fingers crossed.
PHOTOS: Check out the best jokes Joan Rivers has made about celebs
Meanwhile, production on two "Fashion Police" episodes from New York Fashion Week has been halted.
"We will not be producing a 'Fashion Police' this week or next as we await Joan and Melissa's return in front and behind the camera," the network said in a statement Tuesday. "E! will be airing two E! From Fashion Week specials that will deliver the latest news and information from the highly-anticipated event."
Published at 1:15 PM EDT on Sep 3, 2014 | Updated at 4:38 AM EDT on Sep 4, 2014