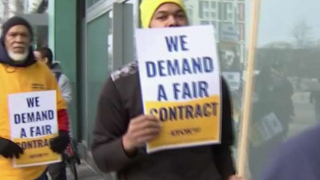 Workers at Washington, D.C., area Safeway grocery stores avoided a planned strike vote, after reaching an agreement with the company over pension benefits.
United Food and Commercial Workers Local 400 said Thursday that after six months of negotiations, they have reached a deal. Under the deal, the company would put an additional $74.4 million into pensions and pay $49.5 million more in wages over the four-year term.
The negotiations, which have been ongoing for about six months, were complex due to difficult pension issues, UFCW Local 400 President Mark Federici said.
"This would not have been possible without a united union membership willing to take a stand for the fair contract they have earned. I couldn't be more proud of our members at Safeway," Federici said in a statement.
The strike vote meeting was scheduled for 1 p.m. at National Harbor.
Workers at Giant grocery stores are also set to meet Thursday morning and vote on a tentative deal. The union has recommended workers approve that contract.