A small plane crashed onto an interstate ramp near Annapolis, Maryland, on Friday and three people walked away unharmed, officials said.
The single-engine plane crashed Friday afternoon on a highway ramp leading from southbound I-97 to Maryland Route 665, near busy Maryland Route 50. With his two children on board, the pilot, Christopher Curry, 32, of Odenton, said he had engine trouble.
Remarkably, no one on the plane or on the road was hurt, Lt. Erik Kornmeyer, of the Anne Arundel County Fire Department, said.
"We do not believe they're going to need further medical attention," he said about the three people on board the plane.
Chopper4 footage showed a man in uniform and two little boys alongside the plane.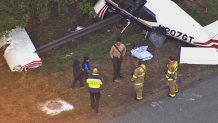 Curry took off from Tipton Airfield in Fort Meade and was trying to return, Maryland State Police said. But he had engine trouble and tried to made an emergency landing.
The plane crashed onto the exit ramp and slammed into a guardrail, state police said. No other vehicles were involved, and no one was reported to be hurt.
Crews hauled off parts of the plane with a tow truck. They evaluated a small fuel leak at the crash site.
"The containment of that fuel is what our major concern is," Kornmeyer said Friday evening.
Local
Washington, D.C., Maryland and Virginia local news, events and information
The fixed wing plane was registered in Anne Arundel County, federal records showed.