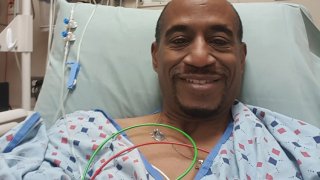 The following content is created in partnership with the Washington Regional Transplant Community. It does not reflect the work or opinions of NBC Washington's editorial staff. Click here to learn more about the Washington Regional Transplant Community.
Douglas "DJ" Jordan had been living quite a full and accomplished life. A retired master sergeant, Jordan served more than 20 years in the U.S. Air Force, visiting places like Turkey, Singapore, and Croatia. And he didn't merely land in these countries, he also sang in them, performing as a vocalist in a military jazz ensemble. And if that wasn't showcase enough for his talents, the officer even got to flaunt his gamesmanship on The Price is Right, where he won a car (not to mention a chandelier).
At no point, though, did any of this foreshadow Jordan's future: Through a grueling series of medical events, he would ultimately receive a liver and two kidney transplants. The good news: As a result, Jordan would go on to become a champion for organ donation.
His story: In 2008, six years after retirement, Jordan was diagnosed with cirrhosis of the liver—a condition that would require a transplant. Rather than take swift action, Jordan stalled—his condition worsening so much that one day he found himself 100 miles from home mindlessly wandering the streets of Richmond, Va., mistaken as a homeless person (the toxins from his failing liver were causing severe mental confusion). Jordan was found, and then hospitalized in time to receive a liver transplant. But he had put treatment off for so long, his condition also damaged one of his kidneys. Now Jordan needed two organ transplants.
The ex-master sergeant lucked out: A liver and kidney from two benevolent deceased organ donors became available, and he underwent surgery for a double organ transplant. Unfortunately, his new kidney failed, and Jordan needed yet a third transplant—which again, luckily, he got.
Now a triple-transplant recipient, Jordan is leveraging his own experiences to enlighten others about the value of registering to be an organ, eye, and tissue donor. One area in particular Jordan excels at: dispelling myths, a few of which are prevalent in the African American community. In honor of Black History Month, Jordan goes on the record about some falsehoods surrounding organ donation.
Myth: Doctors won't try to save the life of an organ donor.
Truth: "Doctors don't see your driver's license—their main concern is saving your life. But sometimes there is a complete and irreversible loss of brain function. The patient is declared clinically and legally dead. Only then is donation an option. There's a similar myth about paramedics looking for the heart on your license. It's simply untrue."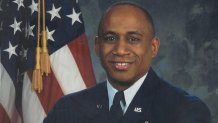 Myth: Doctors, and others in the medical community, can't be trusted.
Truth: "It's true that the distrust exists, but I think that's because there's not enough information concerning organ donation in the African American community. But the majority of people who need a kidney, especially in the metro D.C. area, are African Americans. There are people sitting in dialysis chairs and they know nothing about kidney transplants. And they have no idea that a family member can donate a kidney to them as a living donor."
Myth: Religions prohibit organ donation.
Truth: "People will say that their religion does not allow them to donate organs. That is not true. I have a full list of every major religion and they all view donation as a final act of compassion and generosity."
Myth: If you sign up to be an organ donor, you (if you're still alive) or your family will have to pay for the process.
Truth: "False again. The donor family pays only for medical expenses before death and costs associated with funeral arrangements. In my family's experience, my brother Chris was tested to see if he could donate a kidney to me as a living donor, but he was not a match. But he was able to take part in a kidney swap program where he donated a kidney to someone he did match and this program in turn found a kidney for me. The American Transplant Foundation and the National Living Donor Assistance Center both donated money to my brother to help pay for the transplant surgery and lodging and food for our family. There are organizations out there. People just need to research."
Myth: When it comes to receiving an organ, factors like your financial status, your age, your race, your gender, and whether you're a celebrity affect if you'll get an organ and when.
Truth: "Those are all myths. All three of my organs were from someone of a different race and a different gender. A national system matches available organs from the donor with people on the waiting list based on blood type, body size, how sick they are, donor distance, tissue type, and time on the list. Race, income, gender, celebrity, and social status are never considered. One of the things that just confuses me today is how they try to say we are so different from one another. If all of that was so, I would not be here today."
Washington Regional Transplant Community (WRTC) is the nonprofit organ procurement organization for the metro Washington, D.C. area responsible for recovering and distributing organs and tissues used in lifesaving and life-enhancing transplants. Visit BeADonor.org for more facts and information that can help you make a legal and informed decision about donation.