Police in Bowie, Maryland, say a man's rocky relationship with his stepfather ended violently Saturday when the suspect killed his stepfather and posted an image of his body on social media.
Ronald Pinkney was found dead in his home on the 15000 block of Dalby Court Saturday morning, and now his stepson, Navar Beverly, is facing charges in his death.
A judge ordered Beverly held without bond Monday afternoon, calling him a "clear danger to the community." Beverly, who appeared by video from the Prince George's County jail, began yelling at the end of the hearing and was removed by force.
"Name one person got hit by a satellite. That was me," he said at one point.
Beverly was not supposed to be in Pinkney's house, according to the Prince George's County Sheriff's Office. Pinkney took out a stay away order against Beverly in February.
The mother of Beverly's child has a peace order against the suspect.
Beverly has an extensive criminal history, including a 2004 murder conviction for which he served several years in prison.
Local
Washington, D.C., Maryland and Virginia local news, events and information
"He should have been locked up," the victim's sister said.
His attorney argued Monday that Beverly has done his time for the crimes he committed.
Pinkney's wife called police to her Bowie, Maryland, home just after 8 a.m. to report that her son killed her husband, charging documents state.
A witness told police that Beverly said, "I told you I would do it," adding that his stepfather was "dead in the garage."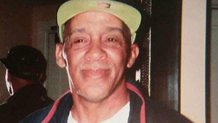 Hours before the victim's body was discovered, Beverly posted a selfie with Pinkney's body on his Twitter account, police said.
The photo has since been taken down.
A lookout was issued for Beverly, and Prince George's County police spotted him near the Hampton Mall at Hampton Park Boulevard and Central Avenue and pursued him. The chase lead back toward Bowie, where the vehicle stopped at the intersection of Central Avenue and Devonwood Drive.
Police said Beverly fled his vehicle and was caught in the 1000 block of Dodson Court.
Prince George's County police said the relationship between the Beverly and Pinkney had been a rocky one with fights and arguments. Two months ago, officers with Bowie City police were called to the victim's home after an altercation between the suspect and the victim. During that altercation, Beverly allegedly held Pinkney in a chokehold until someone intervened.
Beverly is charged with first- and second-degree murder. He is being held on a no-bond status.