June 22, 2009: It was rush hour on another steamy summer day in the D.C. area. A Metrorail train full of commuters was traveling between the Takoma Park and Fort Totten stations on the Red Line.
But another train was stopped ahead.
What happened next was an "unbelievable nightmare." For anyone who was here in the D.C. area back then, the images are unforgettable: two crumpled trains, one resting on top of the other, amid debris that included the transit agency's distinctive orange seats, scattered across the ground.
Nine people were killed that day, in what remains the deadliest incident in Metro's history. Saturday will mark 10 years since the crash.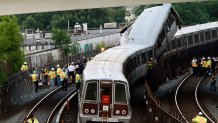 A Dark Day for the D.C. Area
Jeanice McMillan would later be hailed a hero.
Local
Washington, D.C., Maryland and Virginia local news, events and information
McMillan, a Metro employee since January 2007, was at the controls of a six-car train as it approached Fort Totten from Takoma Park on its way downtown. It was the height of rush hour, about 5 p.m.
Her train was navigating around a curve. Computer signals indicated that the track ahead was clear — when, in reality, another train was stopped not far around the curve, waiting for a third train to clear out of Fort Totten.
McMillan's train, Red Line Train 112, was traveling 45 to 50 mph, and when it rounded the curve, the stopped train came into view. McMillan pressed the emergency brake button. The train, one of the oldest in Metro's fleet, began screeching to a halt, but it was going too fast, and it slammed into the stopped train, crumpling and telescoping on top of it.
McMillan, of Springfield, Virginia, was among those killed in the crash. Other victims included a young mom of two toddlers, and a couple married nearly 40 years.
"Everybody who was on the scene that day, who saw the coverage, who knew what was going on, you will never get the images out of your head of one train that had literally climbed onto the top of another," News4 transportation reporter Adam Tuss said.
Then-Mayor Adrian Fenty called the crash an "unbelievable nightmare" for those on board.
Sabrina Webber, a real estate agent who lived in the neighborhood, raced to the scene after hearing a loud boom like a "thunder crash" and then sirens. She said there was no panic among the survivors.
First responders had to use the "jaws of life" to pry open a wire fence along rail line to get to the train, Webber said.
Archive Photos: Deadly DC Metro Train Crash
Numerous passengers were trapped in the trains, and emergency workers used rescue tools to cut them from the wreckage and transport them to hospitals or treat them at the scene.
Among the injured was a 14-year-old girl who suffered two broken legs. Then-D.C. Fire Chief Dennis Rubin said 76 patients were taken to area hospitals. Fifty were described as "walking wounded." Fourteen suffered moderate, non-life-threatening injuries. Six suffered critical life-threatening injuries. Two D.C. firefighters were injured. Two people were airlifted to hospitals.
Fenty called it a dark day for the District. "Our hearts go out to all the families involved," he said.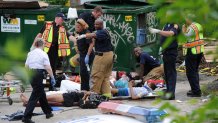 Faulty Circuit, Lack of Safety Culture to Blame, NTSB Said
The automatic control system failure couldn't have happened at a worse location, essentially in a blind spot.
When Train 112 struck Train 214, Metro's train detection system failed in two ways, according to the National Transportation Safety Board (NTSB). First, it showed that Train 214 was not stopped and on the tracks when it actually was. Second, the automatic system had Train 112 move forward at full speed. By the time McMillan saw the stopped train, it was too late.
While the crash was caused by a technical problem, it was compounded by the transit system's lack of a safety culture, NTSB investigators said in 2010, a year after the crash.
"Metro was on a collision course long before this accident," Chair Deborah Hersman said.
NTSB officials said in 2010 that, over the previous years, Metro's management had chosen not to implement federal safety recommendations such as the replacement or retrofitting of the 1000-series trains. That recommendation was made after a 2004 crash at Woodley Park that showed that those cars could not withstand strong impact.
The 2009 crash, and a subsequent smoke incident at the L'Enfant Plaza station that killed an Alexandria woman, set off a cascade of safety warnings for Metro.
The transit agency replaced the weaker 1000-series cars with 7000-cars, and, a decade later, automated control has never been fully reactivated. Train operators run the trains manually, and although Metro's current General Manager Paul Wiedefeld said last year that the automatic mode would return, Metro sources say there is no timetable for that to happen.
Victims' families say they still don't trust the system.
"There's not been a lot of change that has happened to assure the public that this incident would not happen again," Tawanda Brown said.
Brown lost her daughter, Nikki King, in the crash, and has been raising her two grandsons since that day.
"The boys were 2 and 3 then, but now they are 12 and 13, and so they are at a stage in their life where they are asking questions about their beautiful mom — like how tall she was or what did she like and what was her personality and what did she eat — so when they ask questions like that, it makes you relive the loss of the one that you love," she said.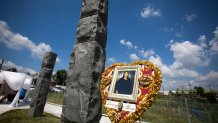 Lives Cut Short: Remembering the Victims
Legacy Park's nine towering stone pillars represent each life lost in the crash.
The memorial opened in 2015 near the crash site in Northeast D.C. A wall in the park also remembers the victims, and benches allow visitors to sit and reflect. The idea behind it all is to give family members a peaceful place to remember their loved ones.
Those who lost their lives in the crash came from a range of backgrounds. The victims were:
Mary Doolittle, 59, who worked at the American Nurses Association. She developed an international outreach program and helped with global accreditation for nurses. She was planning a trip to Italy with her partner of 15 years.
Veronica Dubose, 29, who was on her way to nursing classes in the District. She left behind two young children. Dubose was a diehard Washington Redskins fan and a graduate of Theodore Roosevelt Senior High School in D.C.
Ana Fernandez, 40, who was saving up money for a formal church wedding with her husband, Oscar Flores. A former widow, Fernandez was raising five of her six children when she was killed. Evelyn, her oldest daughter, said her mother always worked two jobs to take care of her kids. The Washington Post reported that Fernandez had just returned two weeks earlier to her old nightly commute to the District and a custodial job cleaning offices.
Dennis Hawkins, 54, who was known as the "heartbeat" of Whittier Elementary School in Northwest D.C., where he worked as a non-instructional aide. Children and parents were said to love Hawkins. Hawkins earned his Master's degree from the University of the District of Columbia. On the day of the crash, he was on his way to teach vacation Bible school at Bethesda Baptist Church.
LoVonda "Nikki" King, 23, who was in the midst of opening her own beauty salon, LaVonda's House of Beauty. The youngest victim of the crash, King was a graduate of Largo High School. She left behind two young sons and had been planning to get married later in the year.
Jeanice McMillan, 42, who was driving the train at the time of the crash. She joined Metro in 2007 to send her son, Jordan, to college. As a single mother, McMillan loved being a train operator because she felt like she was helping so many people get to work every day, her friends and family said.
Retired Maj. Gen. David F. Wherley Jr. and Ann Wherley, both 60, who were married for almost 40 years. The Wherleys had been high school sweethearts and were the king and queen of their senior prom. At the time of the crash, the Wherleys — new grandparents — were returning home from a visit to Walter Reed Army Hospital, where they were training to become volunteers. As a command pilot for the D.C. National Guard, Maj. Gen. Wherley was the leader of the 113th Wing at Andrews Air Force Base. He ordered fighter jets over the Capitol to keep the Washington area safe during the Sept. 11 terror attacks. Ann Wherley was a breast cancer survivor and a successful mortgage broker. She loved gourmet cooking and throwing dinner parties for her friends to showcase her latest recipes.
Cameron Williams, 37, who was heading to work as a nighttime contract laborer. A graduate of Coolidge High School, he was talking to his grandmother and aunt before heading to the Metro.
---
Claire Savage contributed to this report.