Severe storms blasted through D.C. and surrounding areas in Northern Virginia and Maryland Tuesday evening, bringing trees and power lines down onto homes and cars and cutting power to thousands.
Downed trees cleaved a College Park home in two and crushed a car in the Olney area of Montgomery County.
Winds up to 85 mph swept through some areas.
We're making it easier for you to find stories that matter with our new newsletter — The 4Front. Sign up here and get news that is important for you to your inbox.
Thousands of BGE and Pepco power customers in Maryland were still without power as of Wednesday afternoon.
Damage and Power Outages
Prince George's County Fire and EMS said it received 360 calls for service since the storms blew through. The worst of the damage is concentrated on College Park, Berwyn Heights and Greenbelt, where dozens of trees came down.
The University of Maryland said all in-person and remote instruction and administrative operations were canceled Wednesday, including telework and in-person orientation, due to power outages.
A University of Maryland student was seriously injured when a tree struck his home in the 5000 block of Lakeland Road in College Park, the fire department said.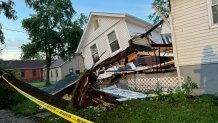 The City of College Park described damage there as "major." Dozens of people have been displaced across the county and the Red Cross said it is assisting them.
As of about 7 p.m., Baltimore Gas and Electric Company reported more than 40,000 customers had no power throughout Maryland. More than 6,000 Pepco customers in Prince George's County still had no power by 7 p.m.
A spokesperson for BGE gave the following statement about the outages:
"BGE continues to work to restore system damage from the severe storms that impacted our area late Tuesday afternoon and into the evening. Due to the widespread damage, more than 800 personnel from other utility companies in multiple states are actively working with BGE to restore power to impacted customers. Crews are staged out of three staging areas at Ripken Field, Timonium Fairgrounds, and BWI Airport," the statement read.
"We are expecting to restore 90% of customers by tomorrow night. However, due to extensive damage from fallen trees, some equipment may not be accessible and repairs to damaged equipment may take longer than anticipated. Please assume that all wires are energized at lethal voltages. Never assume that a wire is safe to touch or be near. Call BGE at 1-877-778-2222 to report fallen electrical lines, power outages and gas odors."
Two roommates fought their way through downed trees only to find their house split in half.
"Our roommate was home, and he text us that the tree fell on the house and the house is completely destroyed," one man said. "It didn't seem like it was gonna be that bad, and then once I actually saw it - I mean, I didn't even have to see it yet because driving into our neighborhood, all of the trees were fallen down on the road."
Dwight Brooks said his wife's family once owned the home that was cleaved into two and described the stunning storm.
"A roar. And everything was moving so fast. It was like — you act now and get to the basement," he said. "The hail was hitting the cars, the hail was hitting the windows… it blew the patio furniture across the back yard."
Several trees also fell onto homes and smashed cars in the Olney area of Montgomery County. Dozens could not go inside after what residents describe as a five-minute storm.
"We got obliterated by something, either a wind storm or a tornado, a lot of trees uprooted," resident Paul Fuller said. He described how he rushed his boys and wife into the basement for safety.
In D.C., firefighters are responding to reports of downed trees in the upper area of the Northwest quadrant of the city.
"Literally this took place in less than five minutes. It was a beautiful day and then wham," resident James Garman said. "I heard a loud explosion, came outside and found this. It was definitely nothing we could've expected."
D.C. Fire and EMS was called to the 3200 block of Cathedral Avenue NW about 6:30 p.m. for reports of downed live wires and found a high-tension power line was brought down on two cars and was arcing. Both cars eventually caught fire causing smoke that could be seen from across the city.
Firefighters could not put water on the flames until Pepco de-energized the line. Once crews arrived and did so, the fire department extinguished the flames.
The extent of the damage in Northern Virginia and elsewhere is unclear at this time.
Amtrak Train 66 was stuck south of Culpeper, Virginia, due to a downed tree on the tracks. It was delayed by more than seven hours by the time it began moving again overnight. Another train was stuck near Quantico.
A Backstreet Boys concert that was scheduled at the outdoor Jiffy Lube Live amphitheater in Bristow, Virginia, was postponed due to the severe weather.
A severe thunderstorm watch was issued earlier Tuesday for most of the D.C. region. A flood watch was in effect until midnight in many of the same areas.
The rain added up to about a half-inch for those that got it, but the wind was fierce. Gusts at Dulles, Reagan National and BWI-Marshall airports were measured at 61, 51 and 45 mph respectively.
Quieter weather is on tap for the next few days following the severe storms.
Stay with Storm Team4 and NBC Washington for more details on the forecast.