A severe thunderstorm with intense lightning and potential for damaging winds is moving through the area.
The storm triggered severe thunderstorm warnings for D.C. and parts of the suburbs.
The storm caused a rain delay at Nationals Park where the Washington Nationals are hosting the New York Yankees in the first game of the regular season. The dugouts at the stadium flooded.
After a two-hour delay, the game was called a 4-1 victory for the Yankees after five innings.
D.C. Fire and EMS rescued five people from two cars stuck in high water on South Capitol Street beneath Malcolm X Avenue.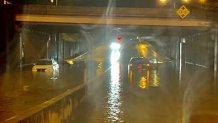 A flood warning is in effect for D.C., west central Prince George's County and Arlington County until 4:15 a.m.
A flood warning for parts of Prince George's, Fairfax and Prince William counties and the cities of Fairfax, Falls Church, Manassas Park, Manassas and Alexandria is in effect until 2:30 a.m.
A flash flood watch is in effect until 2 a.m. for D.C.; Montgomery, Prince George's, Arlington, Fairfax and Prince William counties; and the cities of Falls Church and Alexandria.
A flash flood warning was issued for southeastern Prince William County until 1:45 a.m.
The heat index passed 100° again Thursday, and a heat advisory was in effect through 8 p.m. in Calvert, Charles, Stafford and St. Mary's counties and the city of Fredericksburg. See all weather alerts here.
Expect Friday to be mostly to partly cloudy skies with 50% chance of scattered showers and storms, highs in the mid-to-upper 90s, and a heat index in the mid-90s.
Saturday will be hot, humid and partly sunny with an isolated storm possible. Expect highs around 90 and a heat index near 100.
Expect Sunday to mostly sunny, hot and humid with highs in the low-to-mid 90s and a heat index of 100 to 105.
Stay with Storm Team4 for the latest forecast.