Downpours last for hours in parts of the D.C. area Thursday afternoon and evening, creating a chaotic evening commute, and some roads remained flooded hours later.
Flood warnings and watches were in effect for parts of the D.C. area as heavy rain soaked the region.
Storm drains and runoffs became overwhelmed, creating dangerous driving conditions.
Parts of Interstate 95 were under two feet of water at times during rush hour, Storm Team4 reported.
High water caused issues for commuters on a section of George Washington Parkway in Alexandria, Virginia.
Woodburn Road and some surrounding areas in Fairfax, Virginia, were flooded. Video showed high water completely blocking a large section of the road.
Local
Washington, D.C., Maryland and Virginia local news, events and information
Accotink Creek grew from a quiet stream to a raging river in the Woodburn area. It swamped roads where flooding is such a regular event that measuring signs have been installed to warn drivers of high-water dangers.
Video posted to Twitter showed water streaming down from the ceiling of the Foggy Bottom Metro Station in D.C. like waterfalls, flooding the platform as riders tried to walk through it.
Old Town Alexandria and surrounding areas appeared to experience more than the typical amount of flooding.
The heavy rain and flooding kept first responders busy dealing with car crashes throughout the evening rush hour and beyond.
The heavy rain didn't prevent Fairfax firefighters and other onlookers from saluting the procession for a fallen soldier as the storm moved through Annandale.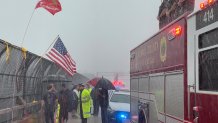 Storm Team4 declared a weather alert.
Stay with NBC Washington and Storm Team4 for developments on the forecast.