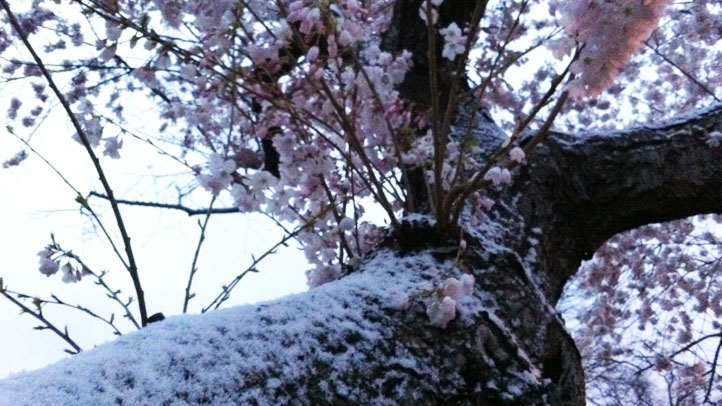 The anticipated spring snow storm laid a garnish of white on the cherry trees and grassy areas of the Washington region.
But the frosty weather should not be a problem for the budding blossoms in the Tidal Basin and around the city.
The National Park Service says that because it is still early in the season, the cherry trees will not have a problem weathering the snowfall. "This shouldn't affect them at all," said NPS spokesman Bill Line. "The majority of the blossoms are not out yet. The petal to the stem is still very strong and resilient."

Light snow peaked around 6 a.m. Sunday morning in Washington. A dusting accumulated in the District, sticking to lawns and trees but melting on pavement. There was slightly more snow south of the Capital - residents in Mechanicsville were seeing almost half an inch on top of mailboxes early Sunday.

Sunday's spring dusting is not unheard of in the region. NBC4's Kim Martucci said in the last 50 years, D.C. has seen .1" or more of snow during the Cherry Blossom season 15 times. On April 7, 2007, .4" of snow fell.

The precipitation will clear by midday, but cold temperatures will linger over the region. The average high for late March is 60 degrees, but Sunday's temperatures will stay in the low 40's. Clouds will hang over Washington, but there is the chance of sun in the northern suburbs around Frederick County. South of the city, temperatures will be a shade cooler, in the high 30's.

Monday will be sunny, but still cool in the 40's. Kim Martucci says it will be a good day to wash the car - the next rain storm is not due until Wednesday.
Weather Stories
For more coverage of the Cherry Blossom Festival, click here.