Keep an umbrella handy if you head out for dinner Friday as there's a chance for showers scattered storms, some of which could be strong.
Some showers moved through parts of the D.C. area earlier Friday.
There's a risk for stronger storms after 3 p.m. and until 9 p.m. Damaging wind gusts, brief periods of torrential rain and frequent lightning would be the main threats.
A severe thunderstorm watch is in effect for Charles County, Maryland, until 8 p.m.
The severe weather outlook is most serious in the metro D.C. area and to the south, the National Weather Service says.
Weather
Latest weather forecast, live radar and weather maps for Washington, D.C., Maryland and Virginia
Temperatures reached the high 80s in the afternoon.
Most, if not all, of the storms will be over by midnight and skies will begin to clear towards sunrise.
Weekend Forecast for DC, Maryland and Virginia
The weekend forecast is looking nice for your outdoor plans.
Saturday will be dry with a nice, noticeable drop in humidity. Expect highs in the mid-80s. Sunday will turn more humid, and there will be a 20% chance for late day showers.
The next big chance for rain and storms in the D.C. area comes Monday. There's a 60% chance of rain and thunder, with locally heavy rain possible.
High heat is expected to return for the remainder of next week.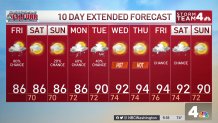 Stay with Storm Team4 for the latest forecast. Download the NBC Washington app on iOS and Android to get severe weather alerts on your phone.