Thunderstorms, including some that are strong to severe, hit the Washington, D.C., area Sunday and are expected to do so again Monday with heavy rain, damaging wind gusts and possible flooding.
On Sunday, though the severe weather outlook was marginal (threat level one of five), storms cropped up after 4 p.m.
We're making it easier for you to find stories that matter with our new newsletter — The 4Front. Sign up here and get news that is important for you to your inbox.
A flood warning is in effect for Fairfax and Prince William counties until 1:30 a.m. A severe thunderstorm warning was in effect for parts of Fauquier and Culpeper counties in Northern Virginia as they experienced quarter-size hail. That warning later expired. See all weather alerts here.
Heavy rain could finally move east of I-95 around 8 p.m. But until then, D.C. and parts of Maryland, like Bethesda, Silver Spring and northern Prince George's County should expect to get wet. Conditions could dry out overnight.
By Monday, the risk level will rise to enhanced — threat level three of five, according to the National Weather Service's Storm Prediction Center. Brace for disruptive weather in the afternoon and evening. Severe thunderstorms, damaging wind and isolated tornadoes are the greatest concerns.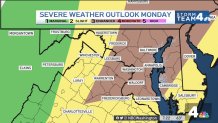 Storm Timing on Sunday and Monday
Weather
Latest weather forecast, live radar and weather maps for Washington, D.C., Maryland and Virginia
Sunday will be muggy and warm with highs in the 80s. Afternoon sunshine energized storms later in the day.
Showers and storms are possible in the afternoon. Isolated storms could become strong between 4 p.m. and 9 p.m. Any storms could produce isolated strong wind gusts, hail and heavy rain, Storm Team4 says.
Monday will be partly to mostly cloudy, breezy and warm with highs about 80° to 85°. Spotty showers are likely in the morning.
Numerous severe thunderstorms could hit the D.C. area during the afternoon and evening, the National Weather Service says.
Damaging wind, hail, heavy rain and flooding are possible. There's also a risk for tornadoes.
This stretch of rainy weather is set to finally clear out on Tuesday. Expect highs near 80° and sunshine.
Stay with Storm Team4 for the latest forecast. Download the NBC Washington app on iOS and Android to get severe weather alerts on your phone.