It's a wild weather week in the D.C. area. After two days of record-breaking warmth, temps dropped sharply Thursday morning, bringing snow north and west of the D.C. area.
Wet snow began falling in those areas early Thursday morning. A winter weather advisory is in effect for northern Montgomery County, western Loudoun County and areas north and west until 9 a.m. Thursday.
Schools in Howard, Frederick and Washington counties in Maryland decided to open two hours late because of the inclement weather.
Snow Falls in Frederick
Storm Team4 has declared a Weather Alert Day for Thursday.
As for the metro area, a combination of rain and snow is expected to fall, with the heaviest amounts likely over by 8 a.m., Storm Team4 Chief Meteorologist Doug Kammerer said. Most of the roads should be fine, but drivers should prepare for a wet commute, Kammerer said.
Only minor snow accumulation is expected on grassy areas in the metro area. Temps should be 35 degrees or higher most of the time, so not much snow is expected to accumulate on the roads.
Areas north of D.C., including northern Montgomery and Loudoun counties could see 1 to 3 inches of slushy snow at the most.
@TomKierein Good morning from Deep Creek, Garrett County, MD. pic.twitter.com/Yp7XNA7EMy

— Ellen Ann Callahan (@ECallahanAuthor) February 9, 2017
Snowing on the left side of the @WNCathedral but not on the right. Welcome to that the rest of the day will be like. pic.twitter.com/zleUWmpn2E

— Chuck Bell (@ChuckBell4) February 9, 2017
Prince George's County and counties farther east and south in Maryland weren't likely to get any snow.
Any air travel delays out of D.C.-area airports would be most likely before noon, but travelers should check with their airlines. More than 2,700 flights had been cancelled as of Thursday morning as a snowstorm wallops a large swath of the Northeast, from Maine to Philadelphia.
Winter Weather Cancels Flights to Northeast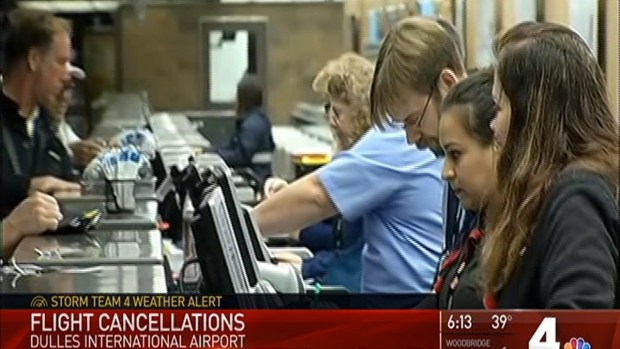 Throughout Thursday afternoon, flurries and bursts of snow showers in the D.C. area are possible, as well as howling wind gusts, Storm Team4 said.
The wintry weather should clear up by sunset, but there's the chance of a refreeze Friday morning.
ANOTHER BIG WARM-UP FOR THE WEEKEND
Once these two cold days are over, warmer weather should return for the weekend. Saturday will be sunny, with temps getting into the 50s, before climbing near 70 on Sunday.
Go here to see Storm Team4's complete forecast.