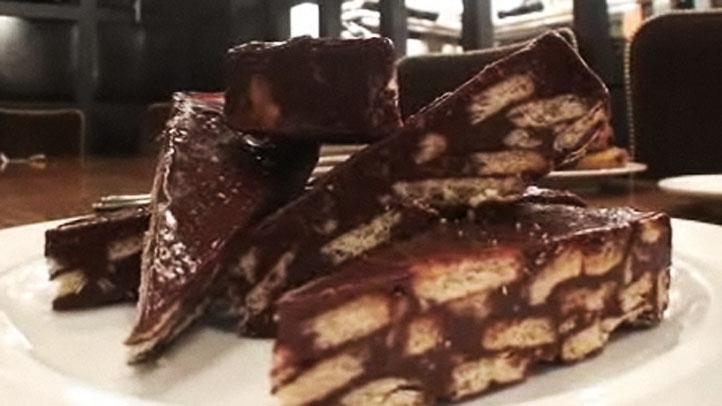 With the upcoming wedding of England's Prince William of Wales to Catherine Middleton, chefs in D.C. have been baking their own royal confections.
Maris Justusson, pastry chef at the restaurant Againn, has been serving two decadent British desserts. She shares her two of her recipes inspired by the royal nuptials.

The traditional chocolate biscuit cake is said to be one of Prince William's favorites. The fruitcake is a traditional bride's cake.
Chocolate Biscuit Cake:

Ingredients:

7 oz. broken up rich tea biscuits

1 cup heavy cream

2 Tbsp. honey

2 oz. butter

16 oz. chocolate

1 tsp. vanilla extract

Directions:

1. Heat up heavy cream, honey and butter in saucepan

2. Pour over chocolate and stir until smooth

3. Fold in broken up tea biscuits

4. Pour into greased and parchment paper lined cake pan (preferably a springform pan)

5. Allow to set in fridge for 3 hours
Fruit Cake

Ingredients:

12 oz. dried fruit (we're using apricots, golden raisins and chopped dates)

pecan pieces

brandy to soak fruit

6 oz. butter, room temperature

6 oz. powdered sugar

3 eggs

2 yolks

7 1/2 oz. all-purpose flour

1/2 tsp. baking powder

1 tsp. salt

Directions:

1. Soak dried fruit with brandy, set aside

2. Cream butter and powdered sugar together

3. Whisk together eggs and yolks and add them to the creamed butter slowly, scraping bowl well after adding

4. Sift together flour, baking powder and salt, then add to batter

5. Drain fruit together and fold in, along with pecan pieces

6. Fill greased and parchment paper lined cake pan 2/3 full

7. Bake at 350 until golden brown

8. Brush cake with brandy simple syrup while warm