A surprisingly omnivorous dog is lucky to be alive after he swallowed a food-related accessory.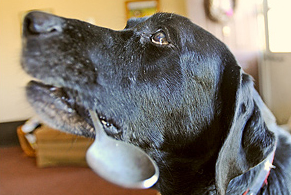 Laurie Neomany of Annapolis, Md., noticed last week that Vincent, her Labrador retriever, wasn't eating. Clearly, this is a total reversal of behavior for most dogs.

During a vet visit, an X-ray displayed the culprit for Vincent's distress: A 7-inch tablespoon had lodged in his stomach and perforated it.

"We changed his [breed] to a utensil retriever," said Dr. W. Chase Coale III of Greater Annapolis Veterinary Hospital. "It's amazing he's alive."

The surgery was tough, Coale said, because Vincent's spleen and intestines were gathered around the hole, and it's amazing that he's alive. But the surgery to remove the spoon was successful and Vincent was back home the next day.

Vincent went home the next day, much to the relief of owner Laurie Neomany. She just wonders how 9-year-old Vincent, who now sports a moderate incision on his shaved underbelly, got the spoon in the first place. It's not hers, but it sure was expensive. The spoon ended up costing $2,500.

"He's been a trash hound from the start," said Neomany, who has two other Labradors and a German shepherd. "I suspect [the spoon] had food on it and he must have been in a hurry and swallowed it down fast."

You think?

Until now, the most unusual things Vincent ate were a plastic bag (which came out the other end), and part of a rose bush. Ow!

"He's not picky about dog food," she said.

The spoon, which is pitted, tarnished and bent, is in a plastic baggie. Neomany guesses it had to have been inside Vincent for a couple weeks for his digestive juices to wreak that kind of damage.

She's considering punching a hole in the spoon it and wearing it around her neck as a reminder of Vincent's brush with death.

Interestingly, the same day Coale performed the spoon-ectomy, he also removed a plastic ghost toy from inside a terrier.

Information from The Capital of Annapolis, Md.
Copyright AP - Associated Press