Team USA has raked in quite a few medals in the past 24 hours:
Vonn Voyage! Lindsey Skis Out in Alpine Combined, Shiffrin Takes Silver
A day after winning bronze in her best discipline, Lindsey Vonn, who posted the fastest time in the downhill leg of the women's Alpine combined, missed a gate early in the slalom and didn't finish in what's likely the final race of her Olympic career.
Michelle Gisin of Switzerland turned in a nearly flawless performance as she finished in a combined time of 2 minutes, 20.90 seconds to eclipse the silver-medalist Shiffrin by 0.97 seconds. Wendy Holdener of Switzerland earned the bronze.
Shiffrin adds the silver medal to the gold she won earlier in the games in the giant slalom.
It was very likely the first and only Olympic race between U.S. teammates Vonn and Shiffrin.
US Beats Canada For 1st Women's Hockey Gold Since 1998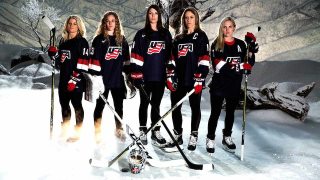 Model Olympians: U.S. Women's Hockey Team
The United States has beaten Canada in a shootout to win their first Olympic gold since 1998 in women's hockey.
It was 2-2 after three periods and 2-2 through five shooters in the tie-breaker.
Jocelyne Lamoureux-Davidson scored in the first extra round of the first shootout tiebreaker in Olympic women's hockey history on Thursday to give the United States the gold medal with a 3-2 victory.
Maddie Rooney stopped Meghan Agosta on her second try of the shootout to clinch it. Rooney stopped 29 shots in regulation and the 20-minute overtime. Shannon Szabados made 39 saves for Canada, which had won four straight Olympic gold medals.

Austria's Gasser Takes Big Air Gold; Team USA's Anderson Earns Silver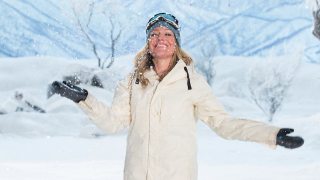 Model Olympian: Jamie Anderson
Austria's Anna Gasser, the favorite in women's snowboard big air, took gold Thursday after she landed two different 1080s — something no one else did in the competition. Gasser edged the top American in the event, Jamie Anderson, by 7.75 points points and Anderson took silver.
Scoring is determined but the best two runs out of three. Gasser broke out back-to-back double 1080s in her second and third runs for a total score of 185.00 and it was good enough for gold.
Already the Olympic champion in snowboard slopestyle, Anderson was in search of her third career Olympic gold medal. Her top trick was her first one, a frontside 1080 that received 90.00 points.
New Zealand's Zoi Sadowski Synnott took bronze.
Wise Takes Gold as US Dominates Men's Freeski Halfpipe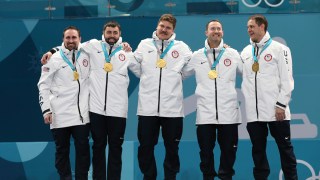 These US Athletes Won Medals at the 2018 Winter Olympics
Americans dominated the podium in the men's freeski halfpipe on Thursday, with David Wise winning gold and Alex Ferreira taking silver.
American Alex Ferreira led the way after two rounds, scoring a 96 on an electric second run. But Wise came roaring back, after falling on his first two runs, to take the lead with a 97.20.
Teammates Aaron Blunck and Torin Yater-Wallace placed seventh and ninth, respectively.
New Zealander Nico Porteous took bronze.