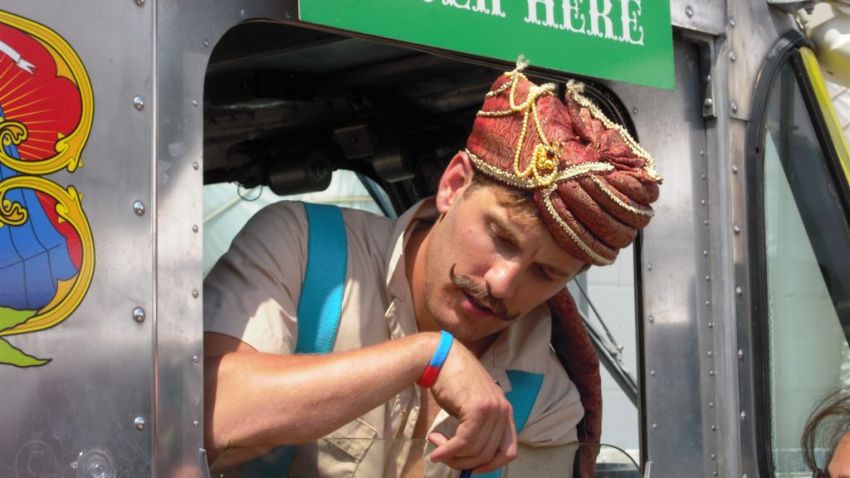 Nowadays when you get a hankering for chicken masala, fish tacos, a vegan sandwich, a cranberry orange scone or a red velvet cupcake, there's usually a food cart somewhere in the city that can satisfy your craving.
The hard part is finding it.
Yes, you can follow them on Twitter. But with so many food trucks getting in the business in the D.C. area, you can't really spend your whole day tracking them. Now, you can follow all the food trucksat FoodTruckFiesta.com, which tracks them all throughout the day, plotting their real-time locations on a Google map. How easy is that?
So you can try Fojol Brothers, Sauca, District Taco, El Floriando, Bulgogi Cart... (deep breath)... Sweetbites, Sweetflow and many more meals on the go. The next time one of them is in your neighborhood, you don't have an excuse to miss it.
And while you're thinking about food trucks, make sure you stop by DCRA's website and take the online survey about what types of mobile food options you want in the District in the future.
Of course, if you're really stuck on Twitter, you could just use our food truck aggregator here.
---
Let's go Around Town: Keep up with what's happening in the D.C. area anytime, anywhere. Follow us on Twitter and Facebook. Sign up for our e-mail newsletters and find out What You're Doing Tonight with texts delivered right to your mobile phone -- just text DCTONIGHT to 622339 to sign up. (Message and data rates may apply.) Don't forget our iPhone app!