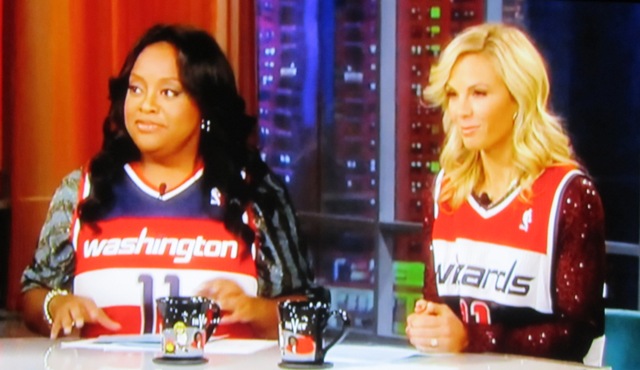 We don't watch The View. But we do watch The Daily Show, and Tuesday night's "moment of zen" caught our eye for a good reason.

The political show's nightly tag featured a clip from The View and apparently the ladies of the daytime talk show have been wearing NBA jerseys. Recently, it was the Wizards turn to get the honors.

As you can see from the high quality picture we took of our TV as we were falling asleep, Sherri Shepherd and Elizabeth Hasselbeck donned the prototype No.11 Wizards jerseys that were introduced this past spring and modeled by John Wall and Jordan Crawford.

We spoke to a team spokesman who confirmed that the show reached out to the Wizards directly to request the jerseys.

Sherri and Elizabeth, combined with Wale's prior jersey modeling, means that the uniforms have made more public appearances on celebrities than on actual Wizards players.