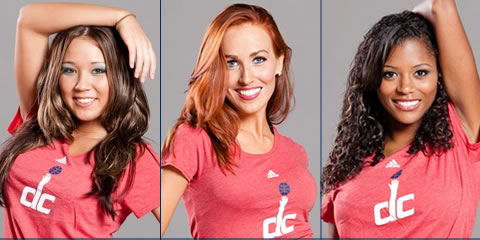 On Saturday, the Wizards selected 19 girls to be on the 20-girl Wizards Girls roster. They're leaving the fate of the last girl in the hands of the fans.

The team is running a Facebook contest and asking followers to vote for who they think deserves that last spot. Each girl got to plead her case in a 30-second video on the Wizards team website.
The voting happens here.
Your finalists:

Rachel
Rachel is from Portsmouth, Va., and her video greeting says she loves "basketball, D.C. and dancing," which makes her perfectly qualified for a basketball dance team in D.C.
Jennifer
Jennifer is another local girl from Stafford, Va., who says she wants to "dance, have fun and keep everyone on their feet."

Julia
Julia just moved to D.C. a year ago, but says she's one of the "biggest Wizards fans around" and follows it up with a "Go Wizards!"
Photos courtesy of the Washington Wizards.
Questions, comments or tips? Email Sarah at sarahskogod@gmail.com. You can also follow her on Twitter (@sarahschorno).