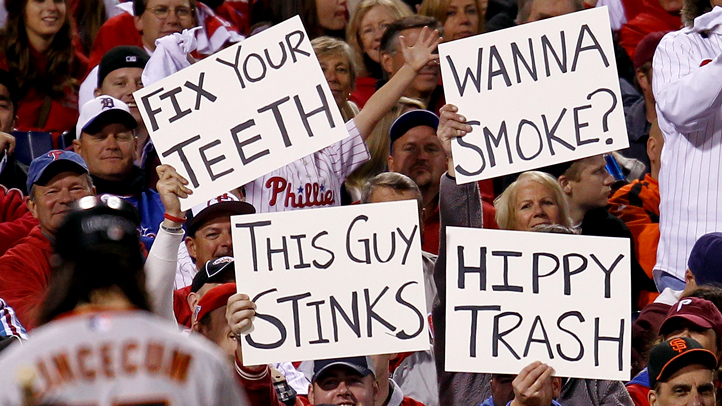 Last week, the Nationals decided to finally address the problem of the Phillies Phan invasion of Nats Park in recent years with a special ticket offer for Nats fans only.

On Thursday, Pennsylvania Sen. Bob Casey decided to address the problem of the ticket offer designed to address the problem of Phillies fans.

From the press release on Senator Casey's website:
"Phillies fans should have the same right that every other fan across the country has to purchase tickets and this gimmick by the Washington Nationals should be stopped right away," Casey said. "The Phillies have some of the best fans in the world and they shouldn't be left out in the cold on tickets just because the Washington Nationals want a stronger home field advantage."


Hooray for affirmative action.

Where not sure which of "Bob's Priorities" this falls under, but we're going to say Foreign Policy.

While Sen. Casey was whining and writing letters, Phillies fans were taking action and one found a way around the Nats and their pesky promotion.

"I went to their website and I saw a way in," Phillies fan Earl Driscoll told CBS Local. "It turns out that directly under that "Take Back The Park" link, there's one for five-game flex plans."
Driscoll found a package that included one of the Phillies games as an option and bought five games with his Philadelphia-based credit cards.

He says he's smart. We say he just bought tickets to five Nats games.
Questions, comments or tips? Email Sarah at sarahskogod@gmail.com. You can also follow her on Twitter (@sarahschorno).