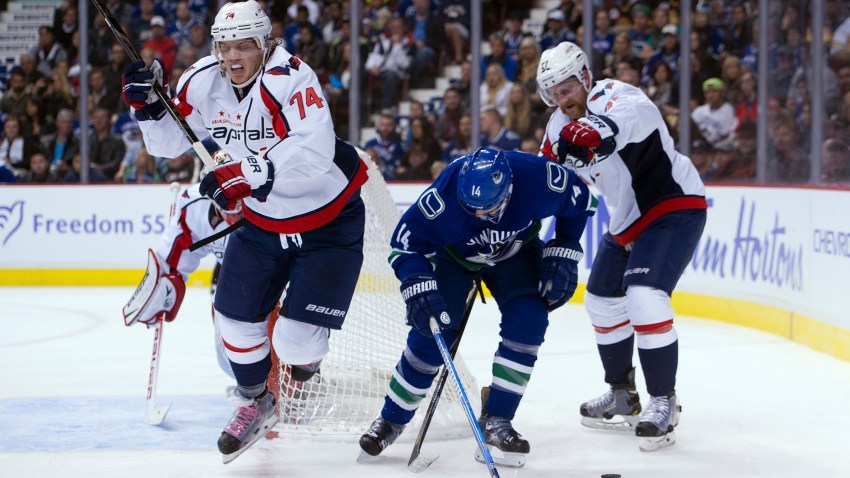 For as otherworldly as the Washington Capitals' power play was last season (and has been for several seasons), the penalty kill was (and has been) decidedly subpar.
The Capitals' penalty kill, which at one point early last season was the NHL's best, finished 16th at 82 percent. Yet Washington allowed more shorthanded shots on goal and unblocked shot attempts per 60 minutes than any team in the NHL by a significant margin. If it were not for the Capitals' stout .904 4-on-5 save percentage, their penalty kill would have assuredly been worse. (My dear friends at Russian Machine Never Breaks provide even more context in this astute post from May.)
A plausible explanation for that lack of shot suppression is former coach Adam Oates discouraging his players from lunging to block shots. ("Most of the time, for me, if a guy is laying down he's out of position," he once said.) An emphasis was placed on proper positioning and anticipating the next play instead of doggedly chasing the puck.
Like Oates, assistant coach Lane Lambert, now in charge of overseeing what he plainly described as "an aggressive, positional penalty kill," will stress proper body and stick positioning but will not prevent his penalty killers from throwing themselves at pucks if need be.
"There's certain areas on the ice that we have to block shots," Lambert said. "There are times when things get desperate and when they get desperate, we want to see sacrifice, there's no question. We encourage getting big, we encourage getting in the shot lanes. Hopefully, we're in good enough position where we don't have to block a ton of shots, but when that opportunity presents itself, we want to do that."
Lambert emphasizes calculated aggression, particularly with what he called "trigger points," such as rebounds or bouncing pucks. (Here is a PowerPoint presentation that Lambert shared at the 2014 NHLCA Coaches' Clinic in June that better explains his penalty-killing ideology.)
According to defenseman Karl Alzner, Lambert's philosophy, particularly when it comes to shot blocking, is a welcome change.
"It's a different mentality," he said. "Before it was kind of like, 'That's the goalie's job to make the saves. Let them make the saves.' Whereas now, obviously depending on the play, if it's a wide-open chance, the goalie can make the save, but if you need to go down and get one there, definitely pro-block shots. It's instinct to go down and block a shot, so it's kind of nice."
Lambert has a formidable stable of potential penalty killers at his disposal this season. Last season, the Capitals leaned heavily on Alzner (289:57 of total shorthanded ice time, fourth-most in the NHL) and John Carlson, who was on the ice for a league-leading 65.2 percent of Washington's total shorthanded ice time. Lambert mentioned defenseman Brooks Orpik and forwards Brooks Laich, Jason Chimera, Joel Ward and Jay Beagle as other players that he will rely on to improve the Capitals' penalty kill.
"There's a good mix of guys," Lambert said, "and once that group gets on the same page, we're looking to have success."
---
Follow Adam on Twitter @AdamVingan and e-mail your story ideas to adamvingan (at) gmail.com.