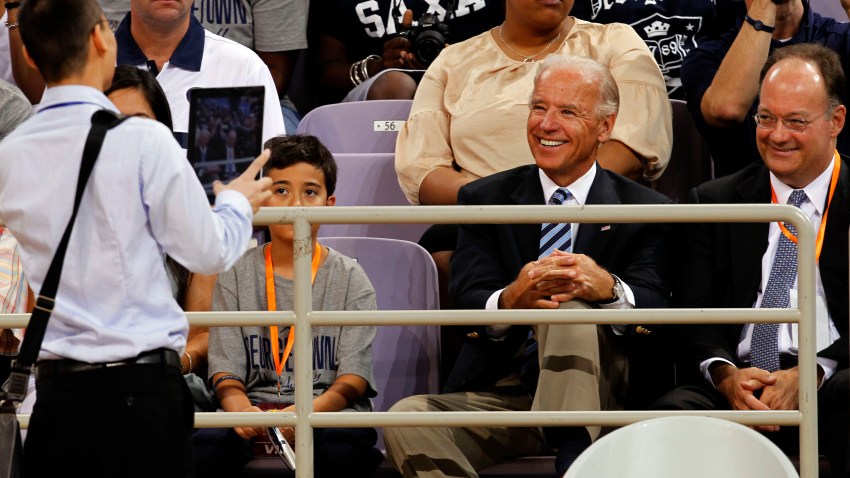 The Georgetown basketball team is currently touring China on a cultural trip, and one very special fan stopped by to cheer them on.

Vice President Joe Biden, also on a trip to China, made an unscheduled detour to show the Hoyas some love.
Instead of immediately going to his hotel, Mr. Biden and his entourage made an unannounced drive through a cold rain to the Olympic Sports Center Gymnasium, arriving at 7 p.m. to watch a basketball game between the Georgetown Hoyas and a team from Shanxi Province. Mr. Biden took a seat in the front row behind the visitors' bench, to the applause of dozens of Georgetown fans, according to a pool report. Mr. Biden, a devotee of the sport, told reporters that he had received many requests from the Georgetown community to attend.

The Hoyas are visiting Beijing and Shanghai to play in some exhibition games, run some clinics with the Nike Sports Festival and, of course, do some sightseeing. But before they left, they had to learn some important cultural traditions. First on the list was learning to use chopsticks.

"Horrible, just horrible," team veteran Jason Clark said to the Post of his noodle-eating skills. "I can't use chopsticks to save my life."

Before they left, they filmed this promo video showcasing their new abilities. Let's hope they packed some forks in their luggage.
Questions, comments or tips? Email Sarah at sarahskogod@gmail.com. You can also follow her on Twitter (@sarahschorno).