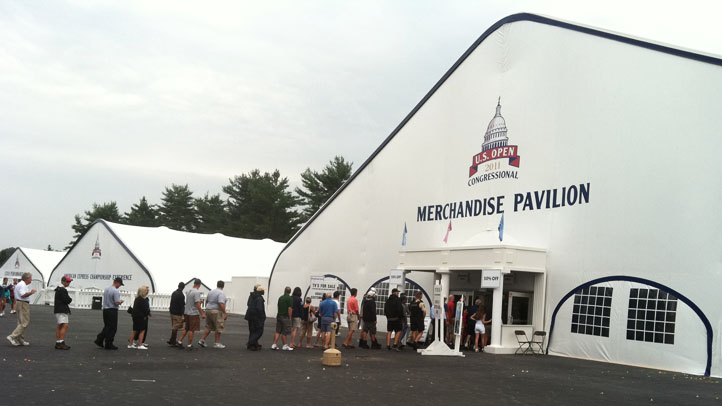 Just when you thought the U.S. Open was over, remnants at the gift shop are still up for sale.
Monday and Tuesday, everything at the U.S. Open store (located at Congressional Country Club) is 50 percent off until the shop closes for good.
Open until 5 p.m. Monday and from 9 a.m. to 2 p.m. Tuesday, customers can get commemorative hats, shirts, jackets, towels and balls for half the regular price.
"We've sold out of quite a bit," said Senior Director of U.S. Open Merchandising Mary Lopuszynski. "Most of what we have left over is T-shirts, head wear, golf towels, ball markers, divot tools and head covers."
If you're looking for a new TV to watch the next golf tournament on, flat screen TVs are also up for grabs: a Sony 55-inch 1080p HDTV for $1,500, a Sony 33" LCD TV for $315 and a Sony 22" LCD TV for $210... plus tax.
NBC Washington's Chris Gordon said that the shop is running low on clothing size medium and that the only size that may be left by Tuesday is XXL.
Lopuszynski said that any remaining merchandise after 2 p.m. Tuesday would be donated to junior programs that the United States Golf Association supports.