If you're out walking the course this week at the U.S. Open at Congressional, you'll probably do a double take when you run into this: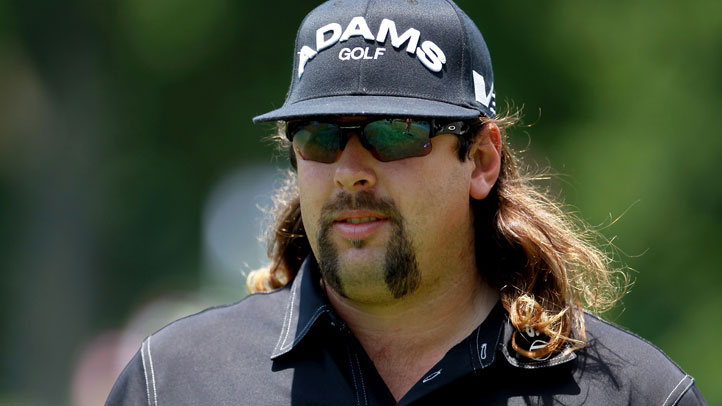 No, that's not The People's Champion, Kenny Powers. That's Andres Gonzales, a professional golfer who doesn't look like your average professional golfer. In fact, he doesn't even look like himself. Here's a shot of him from his college years at UNLV:
Craziness.
That's like Independent George and Relationship George. Although we're not sure which one is which.
Anyway, Gonzales now has long, flowing locks. He's got a crazy mustache. And he's got this:
Now that's a PGA golfer we can root for.
We're going to find out more about Mr. Gonzales as the week goes on, but we believe we've discovered the PGA rookie's Twitter account, which is hilarious.
If this is actually his account (we're still trying to verify), Gonzales talks a lot about eating, and he talks a lot about Tiger Woods. In this tweet he combines both of his favorite Twitter things:
In fact, the account has a running joke going about tweeting at Tiger without ever getting a response. That's good stuff.
(UPDATE: Looks like the Twitter account has been deleted. The mystery continues...)
So please, when you're at Congressional this week, make sure you follow our new PGA hero.