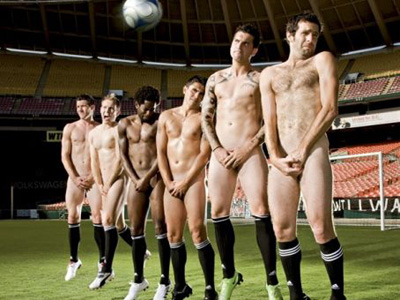 The D.C. United is always looking for more media exposure.
Well, they sure found it.
Friday is the team's lucky day, as ESPN The Magazine's Body Issue hits newsstands with a photo of United players wearing nothing but their cleats and socks.
United hunk Ben Olsen is joined in the photo by Chris Pontius, Clyde Simms, Santino Quaranta, Jaime Moreno and Bryan Namoff. If you're scared to look at the accompanying photo, I'll describe it like so: They're protecting their privates while jumping in line to defend a free kick. And I'm sorry, but I'm not giving you any more of a description than that.
The guys were obviously OK with posing nude, or else they wouldn't have done it, but they sounded like they had some reservations.
"I've had many dreams of coming out on the field naked," Ben Olsen said in an ESPN The Magazine video. "Nightmares. It's kind of coming true today."
So there you go. The United get naked. We write about it. The end.