The men's 200m race at the Tokyo Olympics featured three Americans, but it was a Canadian that won gold. Andre de Grasse won the race but Kenneth Bednarek won silver and Virginia's Noah Lyles bronze for Team USA.
For a complete rundown of the day's events in Tokyo, visit the streaming schedule page for NBCOlympics.com. Watch every event live there or on the NBC Sports App, and catch the highlights in primetime on NBC.
Here's what to watch at the Tokyo Olympics.
Sydney McLaughlin Defeats Dalilah Muhammad, Shatters Own 400m Hurdles WR for Olympic Gold
It was a race of the American superstars.
Dalilah Muhammad topped the world record time in the women's 400m hurdles final on Tuesday night, but it wasn't enough for her to repeat as Olympic champion.
Local
Washington, D.C., Maryland and Virginia local news, events and information
Sydney McLaughlin beat her own world record to win the highly anticipated race and secure her first Olympic medal. McLaughlin took nearly half of a second off her previous world record (51.90 seconds) by finishing in 51.46.
Muhammad, who won gold at the 2016 Rio Games, earned silver with a time of 51.58.
US Women's Basketball Team Routs Australia, Advances to Semifinals
For a team that has won six straight gold medals and more than 50 consecutive games, playing from behind is unfamiliar and unexpected territory.
Yet, after the first quarter in all three games during pool play, the mighty U.S. women's basketball team found itself in that very territory: trailing.
That changed on Wednesday as the U.S. jumped out to an early lead en route to a 79-55 rout of Australia in its quarterfinal matchup at the Tokyo Olympics. The fast start helped secure a spot in the Final Four as Team USA extended its winning streak to 53 games and put itself within two victories of a seventh straight gold medal.
The U.S. advances to the semifinals to face Serbia, which defeated China 77-70 in the quarterfinals, on Friday at 12:40 a.m. ET.
US Women's Volleyball Advances to Semifinals With Win Over Dominican Republic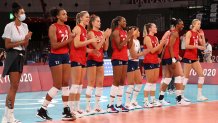 Despite being without setter Jordyn Poulter and opposite hitter Jordan Thompson, the United States women's volleyball team handled the Domincan Republic with relative ease, winning 3-0 in the quarterfinal matchup.
The U.S. team now will play in the semifinals, where they can punch their ticket to the gold medal game. It's the United States' fourth straight Olympic semifinal appearance.
The U.S. will face the winner of Serbia and Italy in the semifinals. The United States came from down 2-1 to defeat Italy 3-2 in the last match of group play.
That match will take place Friday, Aug. 6 at 8 a.m. ET.
Sakura Yosozumi Wins Gold in Women's Park Skateboarding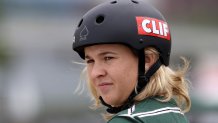 Japan won its third straight gold to kick off the inaugural Olympic skateboarding competition.
Japan's Sakura Yosozumi won the first ever Olympic gold medal in women's park skateboarding on Wednesday in Tokyo. Yosozumi, 19, was the oldest medal-winner by more than six years. Japanese teammate Cocona Hiraki, 12, took silver with a 59.04; she scored a 58.05 on her first run, 59.04 on her second, and 5.70 on her third.
Sky Brown, who turned 13 less than a month ago, took the bronze with a 54.04.
World No. 1 Misugu Okamoto, 15, qualified first out of prelims but missed the podium in the final, finishing fourth. Her highest run score was a 53.58.
American Bryce Wettstein advanced to the final but teammates Brighton Zeuner and Jordyn Barratt missed out, finishing in 11th and 12th in prelims, respectively. Wettstein finished sixth with a 44.50 on her first run.