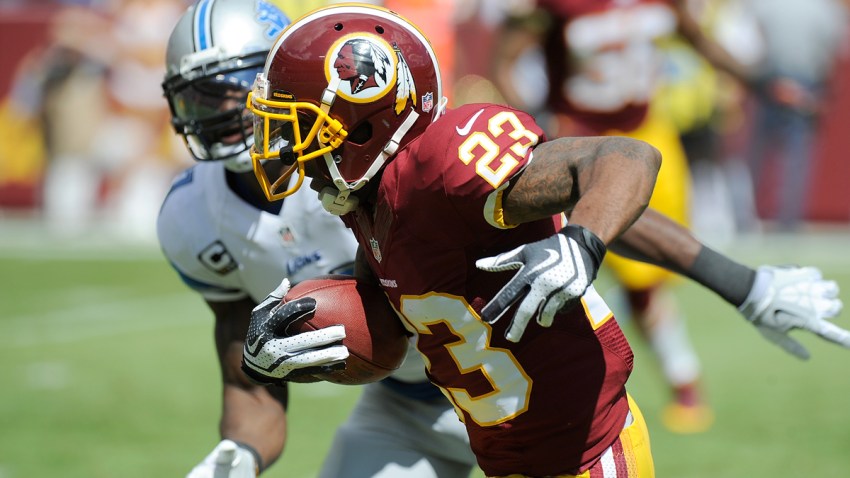 For most people, summer is the time to take a vacation -- but for D.C.'s football players, it's time to get serious. The Washington Redskins begin their training for the 2014 season Thursday ... and you're invited.
The event is a great chance for Redskins fans to connect with the team, gear up for the coming football season and to take a break from the city. Check out our tips below to maximize your time at the event or to turn it into a weekend break.
Why Camp is Way Better Than the Regular Season
Training camp, the beginning of the pre-season for the Redskins, is when the team is put through its paces and the 53-man roster emerges. But it's also when the players take the time to meet with fans after their training sessions.
The public is invited to attend and can watch training exercises, including joint training with New England Patriots players on select days. There are also events, promotions and merchandise tents -- and best of all, admission is free.
Did we say free? Free.
Find the most up-to-date info on the Redskins site here.
How Do I Get to Training Camp?
The event is held at the Bon Secours Washington Redskins Training Center at 2401 West Leigh St in Richmond, Virginia.
Richmond is about two hours away by car. There are several parking lots for fans attending the camp, which cost $7 daily (cash only). The locations are all close to the Bon Secours Center, but a trolley shuttle will run between them for $2. The shuttle will run an hour before the first practice event and until an hour after the last. More information is available here.
No car? You can also take a bus for around $20 from Union Station or an Amtrak train, also from Union Station.
When Is Training Camp?
The event begins Thursday and runs through Aug. 11. Daily training is generally scheduled to begin at 8:35 a.m. and ends with a walkthrough at 4:10 p.m. Several days have special events or altered training times.
Fans are encouraged to arrive early to secure a good viewing spot (more on that below). Gates open at 8 a.m. and close at 6 p.m.
There is no training camp July 29, Aug. 3 and Aug 8. See more information on the schedule here.
How Can I Attend?
Attendance is free, but you will need to sign up for a Training Camp Pass on the Redskins site. Only one is necessary per family group. Signing up for a pass will also enter you into a drawing to win Redskins game tickets and merchandise.
Joint training sessions with the Patriots and Fan Appreciation Day are especially busy events. Passes for those events are provided via a lottery system on the above signup form.
However, attendance may be capped or changed on some other days, so check the Redskins site before you attend.
What Else Should I Know?
Amenities
Expect a merchandise tent, games and fan competitions, as well as several on-site food outlets. The center also includes a park with walking trails.
The Women of Washington Redskins will host events geared toward female 'Skins fans, and obstacle fitness courses will help younger fans let off some steam in. The Redskins Kids' Club will also keep younger fans entertained.
Redskins players, cheerleaders and coaches will sometimes be available to sign autographs and meet fans after training events.
Seating

There are no bleachers available, so guests have the option to either bring lawn chairs and blankets, or to sit in the outdoor amphitheater that overlooks the practice fields.
Standing areas offer fans the chance to stretch their legs and view the events from different vantage points.

Pets

Animals are not allowed at Training Camp (except service animals), so they can't join you during the day.
But that doesn't mean your four-legged friend has to miss out on all the fun. Old Towne Pet Resort (in both Springfield and Dulles) is offering a Dog Agility Training Camp on July 26 to celebrate the Redskins Training Camp.
Special Days
On Aug. 4, 5 and 6, the Redskins will be joined by the New England Patriots for joint training sessions. Fan Appreciation Day is scheduled for Saturday, Aug. 2 at 10:30 a.m.
What to Bring

Bring a cooler with food and non-alcoholic drinks if you want to picnic during camp. Alcohol, glass bottles and video cameras are not allowed at the event.
How Can I Make Training Camp Into a Mini-Vacation?

Richmond is a city steeped in history and famed for its museums, art and monuments. If you're excited about the Redskins Training Camp but need a break, the city could provide a great day trip or weekend getaway.
Where to Stay

If you're planning on staying the night, you have plenty of options throughout the city, including quaint bed and breakfasts as well as budget-friendly chains.
There are three possibilities within a few blocks of the training center. The cheapest is the Comfort Inn Conference Center Midtown about four blocks away, but there are also two bed and breakfasts nearby for a little more luxury. Maury Place at Monument and Grace Manor Inn both have five-star ratings on TripAdvisor.com.
Elsewhere, there are dozens of hotels in downtown Richmond, the Fan District and Shockoe Slip, all of which are within easy reach of the training center. Downtown offers dining and shopping, while the two latter neighborhoods are historical areas with great sightseeing opportunities.
How to Get Around
Driving is the easiest way to get to Richmond and to get around the city, but there are public transportation options available if you want to leave the car at home.

The Greater Richmond Transit System runs an extensive bus service that should get you to all of the city's attractions.
The closest bus stop to the training camp is to the west on North Boulevard Street at the intersection of West Moore Street, which is served by the 24 bus route. However, to the south, West Broad Street is served by several routes, including the 1, 2, 3, 6, 19 and 24 routes, Check out the schedules and routes here.
Where to Eat

The Magpie and Lunch two of the highest-rated Richmond restaurants on Yelp.com, and both are only a short walk away from the training center.
But to get into the spirit of football and tailgating, there are also several barbecue joints nearby. The most popular of those with Yelp users are Gus' Bar and Grill and Buz and Ned's Real Barbecue.
Where to Drink

If you're hoping to wash down a day of football with a beer at a sports bar, you'll have to go a little further afield. The Home Team Grill is a local chain that offers a location in the nearby Fan District, and is the closest sports bar to the training center.
If the Redskins excitement gets to be a little too much and you find yourself in need of a pick-me-up, try Sugar Shack Donuts just a short walk away on North Lombardy Street that offers coffee and donuts.
And if you do decide to stay the night in Richmond, why not make it a memorable experience? Infuzion is the club closest to the Redskins event, but there are also two bars nearby: Strange Matter, an arcade/music venue hybrid, and Empire, a lounge and indie bar. Both are a few blocks away, just off West Broad Street.
There are also several clubs in downtown Richmond. Some of the most popular are The National, a concert venue and club; Barcode, a gay bar and club; and Kai, a dance club.
What Else to Do
The Bon Secours Training Center is located just behind the Science Museum of Virginia and the Children's Museum of Richmond, making it an ideal location to entertain the family away from the field.
The Hardywood Craft Brewery is also just a block away, and yes -- they offer tours.
Depending on the length of your stay, there are plenty of other things to see and do a little further out.
For some more sports-related fun, the home of the Richmond Flying Squirrels minor league baseball team is a short walk away on North Boulevard Street. If you'd like to catch a game, see their schedule here.
The Richmond Kickers soccer team also plays just a little further away at UKROP Park on West Broad Street. Their schedule is available here.
Richmond is a city with a long and fascinating past, and it is home to some of Virginia's most treasured historical landmarks. If you plan to take in some of that history, consider visiting Maymont Park, The American Civil War Center, Richmond National Battlefield Park and The Virginia War Memorial. There are many other sites worth visiting too.
For a break from football, try the Virginia Museum of Fine Arts or tour the famous Hollywood Cemetery, which is the resting place of presidents James Monroe and John Tyler, as well as many other historical figures.
For something that takes a full day, though, you might want to consider Kings Dominion, which is only about 30 minutes north of Richmond by car. There is also an express bus service that runs there several times daily from downtown Richmond.