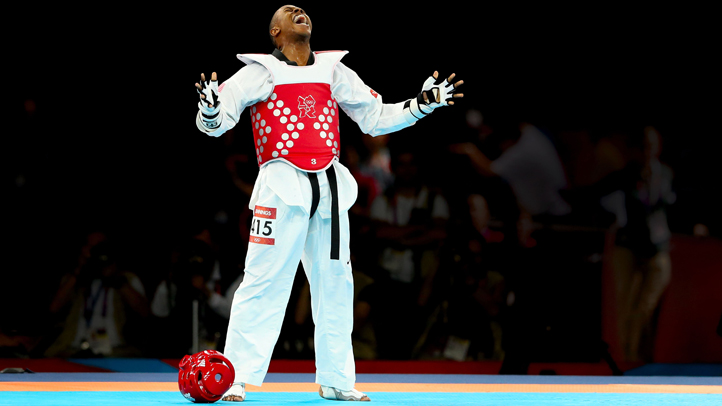 Alexandria, Va., native Terrence Jennings lost his Olympic debut on Thursday, but managed to fight his way back into the medal picture and eventually took bronze in the featherweight (68kg/150 lbs) weight class.
Jennings, whose love of the Teenage Mutant Ninja Turtles led him to take up taekwondo, beat Brazil's Diogo Silva, 8-5, in the second repechage bout to secure one of two third-place medals handed out in the weight class. (Watch the full replay here.)
Jennings didn't have an easy go of it in his first bout. Not only was he competing in his first Olympic competition, but he was doing so against the No. 1-ranked competitor in the world, Turkey's Servet Tazegul. Jennings put up a strong fight, but eventually lost that one, 8-6.
Jennings then worked his way through the repechage bracket, beating Ukraine's Hryhorii Husarov, 3-2, to get him within striking distance of the bronze.
"After losing the first match of the day I had to focus and make the bronze medal my gold medal," Jennings told NBCOlympics.com.
His opponent was Silva, and the outcome was as tight as they come. Jennings got out to an early 4-0 lead and maintained the lead late into the final round. But with 20 seconds left, Silva finally got a head shot on Jennings to tie the score at 5. As the final seconds ticked off the clock, Jennings made one attempt to win it -- and did. His twisting kick seemed to connect with Silva's head. Initially it wasn't scored, but after a challenge he was awarded three points, and an 8-5 win.
"The last two matches were about closing it out and being as efficient as possible," Jennings said. "I gave up two shots at the end, but I fought to the last second and it paid off. I knew I made contact with his head I just didn't know if it scored before time ran out."
Jennings said it was bittersweet that he wasn't able to strike gold, but he's happy to have a medal.
"Of course I wanted gold," he told News4's Dan Hellie. "My ultimate plan was to come here and win the gold medal. I can't complain because of the simple fact that I still medaled and this is my first Games. Four more years and I'll be back again."
Oh, and if you're friends with Jennings and sent him a text message after his win, well, there's a chance he hasn't seen it yet.
"I have about 300 text messages that I haven't opened yet," Jennings said. "A lot of Facebook, a lot of Twitter messages. I've had a lot of support from the beginning. Everyone back home has been a big support and a big help for me. Everyone's on Twitter telling me to keep going and keep your head up, especially after I lost the first (bout). It really helped."