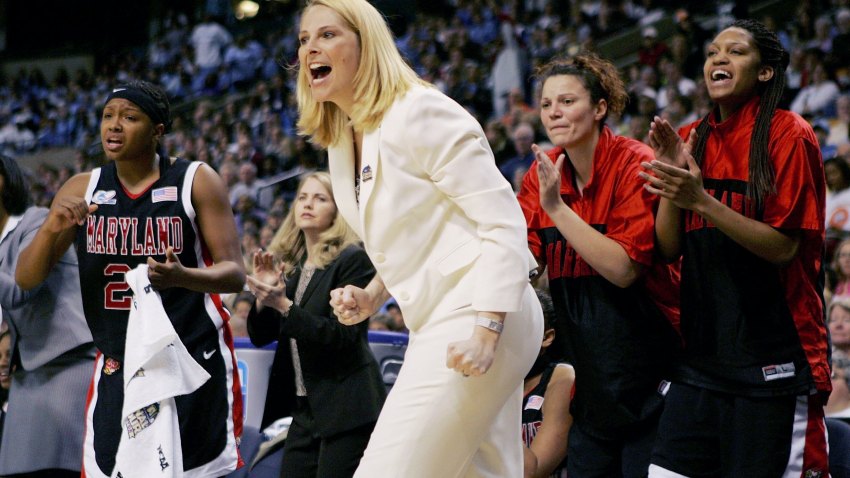 COLLEGE PARK, Md. -- Even though they probably knew it was coming, the third-ranked Maryland women's basketball team let out a collective cheer Monday night after being named a No. 1 seed in the NCAA tournament.

The Terrapins (28-4) stand atop the Raleigh Region. The Atlantic Coast Conference champions will open play Sunday at home against Ivy League champion Dartmouth (18-10).

"I'm just thrilled about our bracket, our matchups," coach Brenda Frese said. "I love the fact that we were able to get and earn a 1-seed in Raleigh for our fans, so they can travel."

If the Terrapins beat Dartmouth, they will play the winner of the Villanova-Utah game in the second round Tuesday. Then it's a trip to North Carolina, almost certainly with several thousand backers in tow.

Because Maryland won the ACC regular season title and then backed it up with its first ACC tournament win in 20 years, there seemed to be little doubt the Terrapins would garner a top seed. Frese and her players knew they would begin play at the Comcast Center, where Maryland has won 34 straight, but the biggest mystery was where they would go next.

"The biggest thing is we were hoping we would be in Raleigh," Frese said. "We expect to see a sea of red in the stands if we make it and continue on."

Seniors Kristi Toliver and Marissa Coleman, both holdovers from the 2006 national championship team, are eager to mount one last charge at another NCAA title.

"We totally expected to get the No. 1 seed in Raleigh, but I was still holding my breath," Toliver said. "You never know what the committee wants to do. I think we were really looking forward to seeing who we were going to play."

Asked what she knows about Dartmouth, Toliver said, "They're in the Ivy League, so I'm sure they're intelligent people. That's about all we know."

Maryland probably couldn't have asked for a better scenario than playing twice at home, then heading south down I-95 for the right to advance to the Final Four.

"I think it's definitely to our advantage," Coleman said. "Our great fans will come out to the first two games and then move on to Raleigh. It's exciting. We play well in Carolina."

Undefeated Connecticut has been deemed by many to be the team to beat, but Maryland won't worry about that matchup unless it actually happens.

"UConn is not in my thoughts right now. Right now I'm thinking about Dartmouth," Toliver said. "I mean, UConn could choke and lose to whomever in the second round. It's all about who you have coming up, and right now it's Dartmouth."
Copyright AP - Associated Press