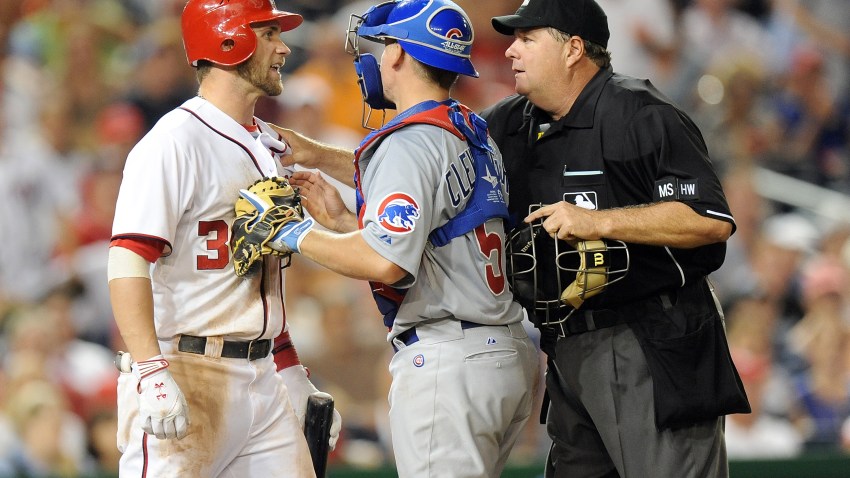 The Chicago Cubs didn't have a very good time in Washington, D.C., this week.
Normally, visiting the nation's capital is an enriching experience and something that everyone should do at some point in their life. The Cubs, however, spent four days in Washington getting their butts kicked.
Being outscored 31-9 and allowing 15 home runs in four games is not something to write home about on a postcard. And since no one could threaten the Cubs with turning the car around (though I'm sure they wouldn't have minded that), they did what any petulant child would do: yelled and moaned about it.
The part of the child was played by 57-year-old bench coach Jamie Quirk, who took offense to Jayson Werth swinging on a 3-0 pitch with the bases loaded and the Nats already up by five runs. Third-base coach Bo Porter wanted none of that.
"Well, their bench coach was yelling all kinds of things," Nationals manager Davey Johnson said to reporters. 'Swinging 3-0, blah blah blah blah' really loud. And it was totally uncalled for. Here we are in the fifth inning, we're in a pennant race, we're going to swing 3-0, we're going to do everything. We ain't stopping trying to score runs. Certainly a five-run lead at that time is nothing. I think it was the bench coach's frustration in us handing it to them for a couple days.
"If they want to quit competing and forfeit, then fine. But we're going to keep competing."
Home plate umpire Jerry Layne confirmed to reporters that he ejected Quirk for instigating the confrontation between himself and Porter.
That wasn't all, though. In the following inning, Lendy Castillo threw at Bryce Harper, and everything came unraveled once again as both benches and bullpens cleared for the second time.
It was a pretty anticlimactic bench-clearing brawl (personally, this would have the perfect time for Werth to reveal that is indeed WWE Superstar Edge and just spear everybody, but sadly, that never came together). No punches were thrown and order was restored fairly quickly.
Cubs catcher Steve Clevenger, however, like an annoying gnat (no pun intended), was buzzing around the scrum. He took an open-handed swipe at Ian Desmond and pushed Michael Morse before being tossed. Seriously, who in their right mind would push Morse? Dude's huge. Clevenger reminds me of that shrimpy kid in high school that bullies people and then hides behind the jocks.
Anyways, Washington ultimately won the game 9-2 and sent Chicago home with a beatdown, literally and figuratively.
Come back soon!
---
Follow Adam on Twitter @AdamVingan and e-mail your story ideas to adamvingan (at) gmail.com.