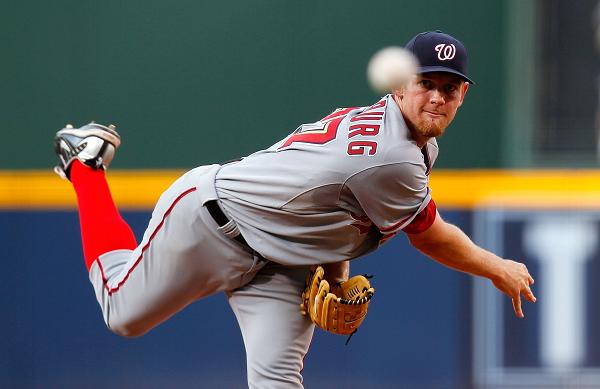 It wasn't televised and no one outside of Stephen Strasburg's rehab team saw it, but on Monday something amazing happened. Strasburg threw a 95 mph heater.
Strasburg has been throwing to hitters in rehab, but the magic happened during a simulated game which mimics the flow of an actual game with full innings.
"He threw 95. I know he's holding back," Davey Johnson
told MLB.com
. "I know he's chomping at the bit to get back."
It's good news for the Nats and fans who are anxious to see him back on the mound. For those who don't know how close he is, Mike Rizzo
put it into perspective
for the Post.
Rizzo described Strasburg as currently in "mid-spring training mode," which means Strasburg's reconstructed right elbow has achieved the stamina of a pitcher almost ready to make his first two-inning start of spring training. It's like Strasburg has progressed to, say, Feb. 27 of his personal season.
By that time line, it puts him just over a month away from being ready to pitch if his rehab continues to progress smoothly. Strasburg has more batting practice and simulated games to pitch before he can move his rehab to the minor leagues, but it's common opinion that we could see him at Nats park sometime in September.
Strasburg? Harper? Peacock? 2012 is looking mighty fine.