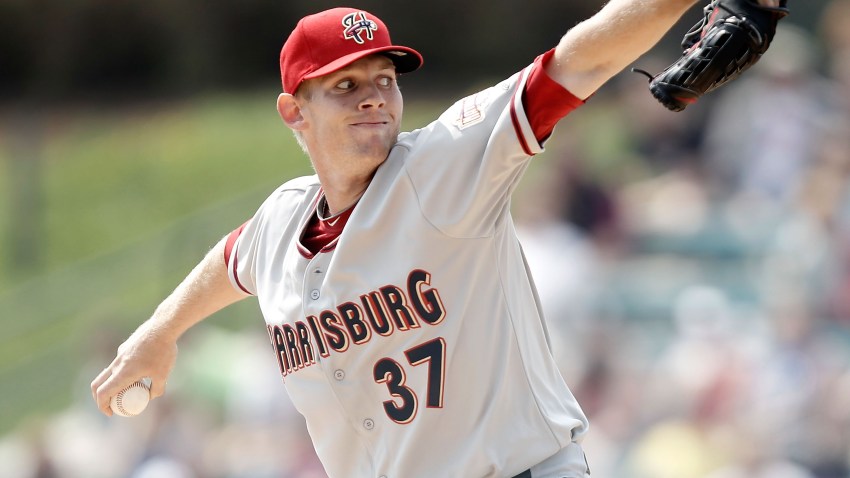 Ninety-nine miles per hour.
No, it's not the top speed of a high-speed police chase. That's how fast Stephen Strasburg's first professional pitch was when he took the mound for the Harrisburg Senators Sunday afternoon against the Altoona Curve.
In a game sprinkled with the sort of mistakes an eager -- and very closely-watched -- 21-year-old would make in his professional debut, Strasburg racked up 82 pitches in five innings of a 6-4 win in front of a sellout crowd in Altoona. When historians look back, they'll see a box score that says he gave up four hits, four runs -- one earned -- two walks and struck out eight.
This was just the latest chapter in the Strasburg Story. The Nats sent him to the Class AA Eastern League for what will likely be a short stint, because if all goes well he's expected to be called up to the big club in June.
The right-handed Strasburg threw consistently in the 97-98 mph range en route to the win, one that the Washington Post summed up like this:
It was a performance that somehow both validated the Nationals' decision to send Strasburg to the Class AA Eastern League for the start of his professional career and underscored the reason he almost certainly will not be here for long, as Strasburg, a 21-year-old right-hander, alternated moments of sheer dominance with adrenaline-fueled missteps -- particularly in the first inning.
Oh, and in case you're wondering, the wonder kid also can hit. He cracked a two-out RBI double to right field in his second plate appearance.
Can anyone say "Babe Ruth"?