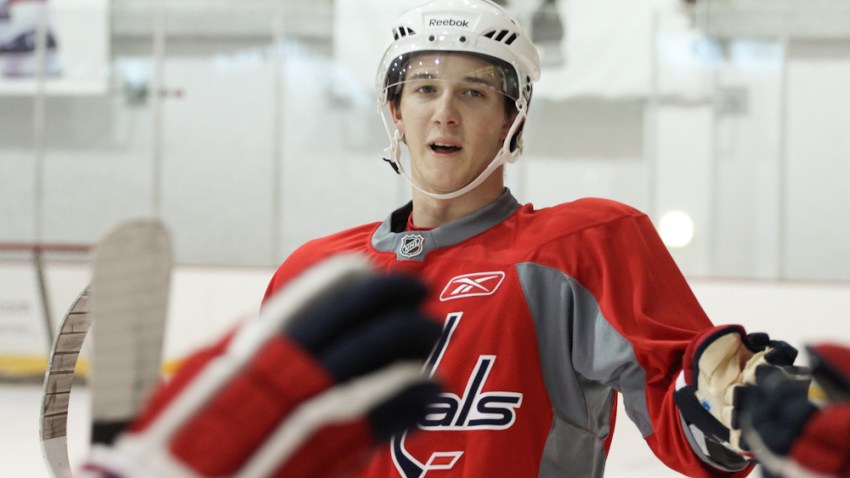 A quick perusing of the Washington Capitals' forward depth chart will show a reasonably large hole.
With the departure of Alexander Semin, the Caps are missing a potent winger that can regularly contribute offensively on the top two lines. General Manager George McPhee insisted last week that the Caps can replace Semin's scoring (197 goals in 469 career games with Washington) from within.
Perhaps that missing piece is indeed within the organization and, like Semin, happens to be Russian (though hopefully less enigmatic; no puzzle-related pun intended). During this week's Prospect Development Camp, forward prospect Stanislav Galiev will be closely watched as he could be the Caps' best solution -- albeit in the future -- to the top-six quagmire.
"It's different now -- new coaches, new system and new guys," Galiev said Monday when asked about his thoughts on the first day of camp. "[Having] no Russians with me is kind of different, but still I have confidence. It's my third year here and it's good to be back here again."
As Galiev mentioned, this is his third summer as a participant in Washington's annual prospect camp since being selected with the 86th pick in the 2010 NHL Draft, but unlike in previous years, where he returned to his junior hockey team in Canada, Galiev is preparing for his first season playing professional hockey.
Galiev has spent the last three seasons with the Saint John Sea Dogs of the Quebec Major Junior Hockey League. After a breakout season in 2010-11 where he scored 37 goals and the Sea Dogs won the Memorial Cup (awarded to the Canadian Hockey League champion, which encompasses three leagues, including the QMJHL), Galiev suffered a wrist injury during the 2011-12 season that limited him to 20 regular season games.
Upon his return, Galiev went on a tear in the postseason, earning 34 points (16 goals) in 17 games to lead the QMJHL in playoff scoring and Saint John to the President's Cup as league champions.
Coincidentally (though perhaps not), Galiev has received comparisons to Semin; both are skilled wingers with great speed and even greater shots. Yet, Semin has become notorious for his apparent lack of effort, which the Caps surely hope is not the case with Galiev. Mark French, who will likely be Galiev's first professional head coach with the Hershey Bears, has heard great things.
"He possesses very good skill level," French said Monday. "In talking to his junior coach, everybody raves about two things: that he's a very good kid, very coachable, very North American-ized. But he's got an unbelievable skill set. He sees the ice very well, he's got a very good shot that's going to allow him to score."
"I think it's well-rounding his game, understanding what his strengths are," French continued when asked what he feels Galiev could improve on, adding that he would like to work with Galiev on his 200-foot, all-around game. "We certainly don't want to take away those strengths, but maybe refining other areas of his game."
One of the biggest indictments of Galiev's game is his size; listed at 6'1" and 186 pounds, the 20-year-old Galiev is still growing into his body (though he did not shy away from contact or battling in the corners during the camp's first scrimmage Monday). French, however, noticed that Galiev has gotten bigger since he last saw him.
"My first impression when I saw him is that he looks like he's [added muscle]," he said. "I think he's got a frame that will carry more weight and I think with maturity it will. In coming to the pro level, there will be a lot more emphasis with [strength and conditioning coach Mark Nemish] and some of the strength and conditioning people here that I think he's got a real good chance to add some size to his frame."
French said Monday that a top-six role is "probably where [Galiev] needs to play to best use his skills," a vacancy that just so happens to be available in Washington. While Galiev might not fill that opening in a regular capacity next season, whoever does might just be keeping it warm for him.
"That's my dream," Galiev said matter-of-factly. "I'll work hard for it."
---
Follow Adam on Twitter @AdamVingan and e-mail your story ideas to adamvingan (at) gmail.com.