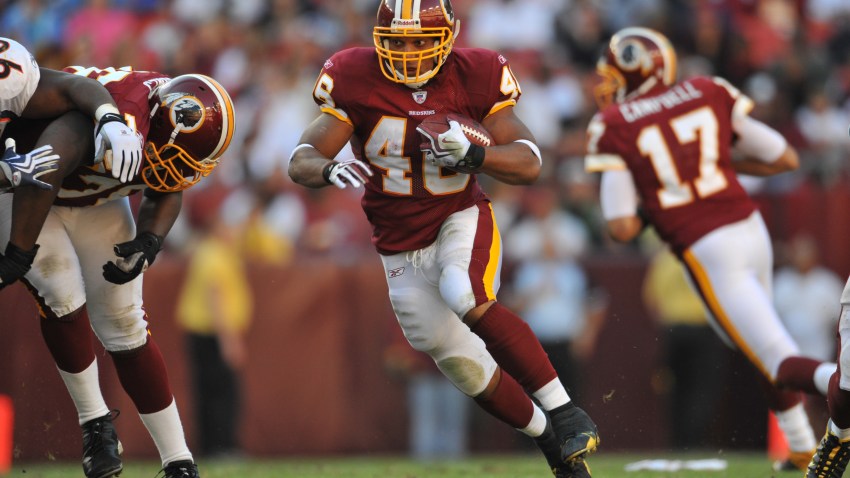 There's nothing Redskins fans love more than a good QB controversy. All offseason, and even into the first bunch of games, Skins fans (heck, even the front office) were looking for replacements for Jason Campbell. From Jay Cutler to Mark Sanchez and from Todd Collins to Colt Brennan, there've been plenty of alternatives. (Though, please, let's calm the talk on Hunter Smith as QB for now!)

But while fans and front offices have spent their time worrying about that, maybe our time is better spent worrying about a more pressing position: running back.

With Clinton Portis on the sideline, suffering from a concussion, the Skins running game had its best game of the year.

Ladell Betts rushed for 114 yards. That's a total that Portis has surpassed just once in his last 13 games. Heck, he's only been over 100 once in that stretch, too.

Portis hasn't looked sharp all year. While poor line play's definitely a chunk of that, it's not like Betts was rushing behind the Hogs either. Could it be that the heavy workload Portis has taken on the last few years has finally caught up to him? Is he just a tick slow, whether with a quick cut, or in the open field compared to where he was?

Portis has been unable to practice more often than not over the last two seasons. Did the fact that Betts and Rock Cartwright (who chipped in 41 yards, too) practiced regularly this week allow them to see how the line was working, identifying holes, and developing a little bit of chemistry?

It certainly seemed that way to us hacks watching with a remote in one hand and a bag of chips in the other.

Then there's the matter of Portis' long-term health. Concussions are drawing increased attention, and the team should be as much focused on his long-term health as they are on Dallas. There's no need to rush Portis back until he's fully healthy.

It certainly seems like resting Portis another week -- or limiting his carries -- would be the right thing to do. But Jim Zorn says that Portis isn't about to lose his job.

We might not have a QB controversy any more, but it looks like the RB one is just starting.
Copyright FREEL - NBC Local Media