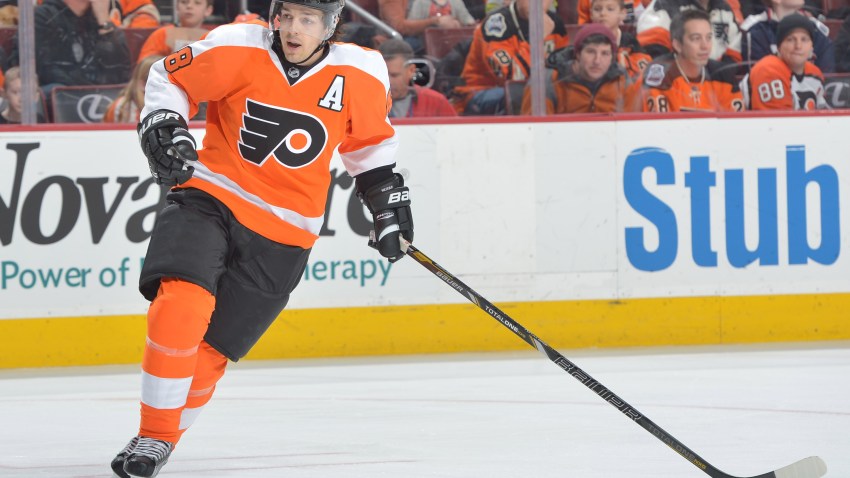 The Philadelphia Flyers unofficially made this summer's first significant compliance buyout Thursday, confirming that they will use one of the two allotted to them (and every NHL team) to buy out forward Danny Briere (they cannot officially do so until 48 hours after the deciding game of the Stanley Cup Final).
Briere's forced exodus will provide the Flyers with $6.5 million of salary cap relief -- his annual salary cap hit was the highest on the team -- while also giving the 35-year-old who earned only 16 points in 34 games the opportunity for a fresh start after the worst offensive season of his career.
Once the news came down through the wire, speculation regarding where Briere could get that fresh start began instantly. Naturally, the Washington Capitals, a team perpetually searching for centers with even the smallest amount of offensive ability, were one of the mentioned destinations.
Outwardly, Briere would make for a reasonably-priced replacement for Mike Ribeiro if the Capitals cannot agree to terms with their current second-line center. He is a 15-year veteran capable of putting up big numbers, having scored at least 20 goals eight times and 30 goals four times, and a proven playoff performer, averaging almost exactly a point per game (109 points in 108 games), including a league-high 30 in 2010.
But to paraphrase a well-known carpenter (read: Jesus), do not judge Briere by mere appearances, but instead judge him correctly. Briere, classy as he may apparently be, is an aging veteran who certainly is not going to get any better. Assuming the Capitals could afford to sign Briere, they shouldn't.
Nevermind his defensive deficiencies (though it's hard to ignore someone who inspires a headline about his "embarrassing lack of effort"). Briere, as one would expect from a player his age, is regressing.
Minus one slight uptick in 2010-11, Briere's points per game average has plummeted from 1.21 to 0.47 since 2005-06. In just the last three years, his points per 60 minutes average has tumbled from 2.6 to 1.28.
By using advanced statistics from last season (explanation of the terms can be found here and courtesy of Japers' Rink), it is evident that Briere was not driving puck possession while on the ice and was actually defending more than producing offense. If the Capitals are in need of a diminutive French Canadian center, then look no further than Mathieu Perreault, whose numbers are similar, if not better. For once, Washington may actually be better off filling the center position from within.
Of course, this is all assuming that the Capitals cannot re-sign Ribeiro, but even if they cannot, think about it this way: If there is trepidation about re-signing a 33-year-old center who was the team's second-leading scorer to a four- or five-year deal, then why would you want to sign a 35-year-old who was essentially asked to take his puck and go home after the worst season of his career to replace him?
Pass.
---
Follow Adam on Twitter @AdamVingan and e-mail your story ideas to adamvingan (at) gmail.com.