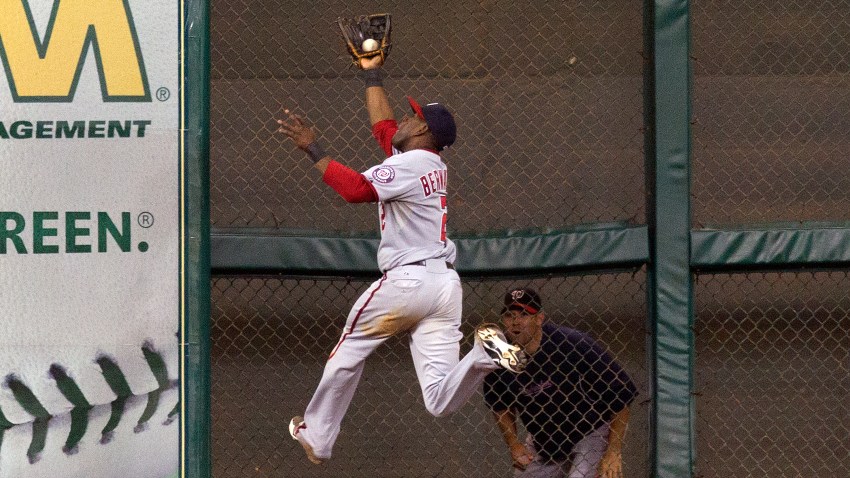 As it is not surrounded by water, Houston has not been the site of many shark-related incidents. That is, until Washington Nationals outfielder Roger "Shark" Bernandina came to town this week.
Monday, Bernadina looked more like a bull as he charged around the bases en route to scoring the game-winning run in the Nats' 5-4 extra-innings victory.
Houston allowed that run to score because of a disASTROus fielding display, but Tuesday, it got a second chance when its game with Washington went back into extras.
This time,however, it was Washington that made a highlight-reel worthy defensive play (trust me, the aforementioned comedy of errors -- pun intended -- from Monday was on every highlight show, albeit for the wrong reasons) and Bernadina was at the center (field) of it all:
With runners on first and second and down 3-2 in the 12th, Brett Wallace (one of the culprits of Monday's error) smashed a long drive toward center field.
Perhaps just as impressive as Bernadina's catch was how much ground he covered to reach the ball, especially considering Minute Maid Park's unique dimensions. The catch ended the game as the Nats held on -- literally -- for a 3-2 win.
For a more appropriate soundtrack, mute the video above and watch it while playing this. It might as well be on repeat inside the Astros' heads.
---
Follow Adam on Twitter @AdamVingan and e-mail your story ideas to adamvingan (at) gmail.com.