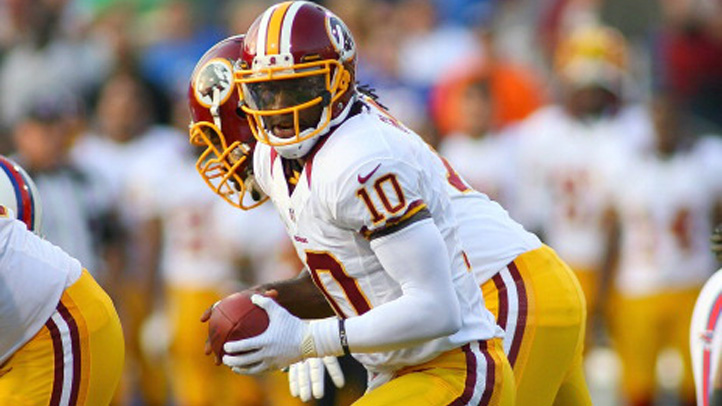 After months of anticipation, Robert Griffin III finally took the field as the starting quarterback for the Washington Redskins. In limited action, Griffin proved himself worthy of the adulation that he has received thus far as his first-career NFL touchdown lifted Washington to a 7-6 victory over the Buffalo Bills Thursday.
Griffin went 4-for-6 for 70 yards and one touchdown (he was also credited with a lost fumble during a handoff to Evan Royster) during his three drives under center. Three of his completions, 58 of his 70 yards and his lone touchdown came during his final drive (the Redskins went three-and-out on his first two), which was capped off by a Pierre Garcon (who caught all three aforementioned passes) 20-yard touchdown that gave Washington a 7-3 lead.
That touchdown was all the Redskins would need as their defense did the rest; Washington held Buffalo to 219 total yards and two field goals.
Rookie running back Alfred Morris led the 'Skins with 54 yards on the ground, while rookie quarterback Kirk Cousins went 9-for-22 with one interception in his NFL preseason debut.
The Redskins return to action next Saturday against the Chicago Bears at Soldier Field.
---
Follow Adam on Twitter @AdamVingan and e-mail your story ideas to adamvingan (at) gmail.com.