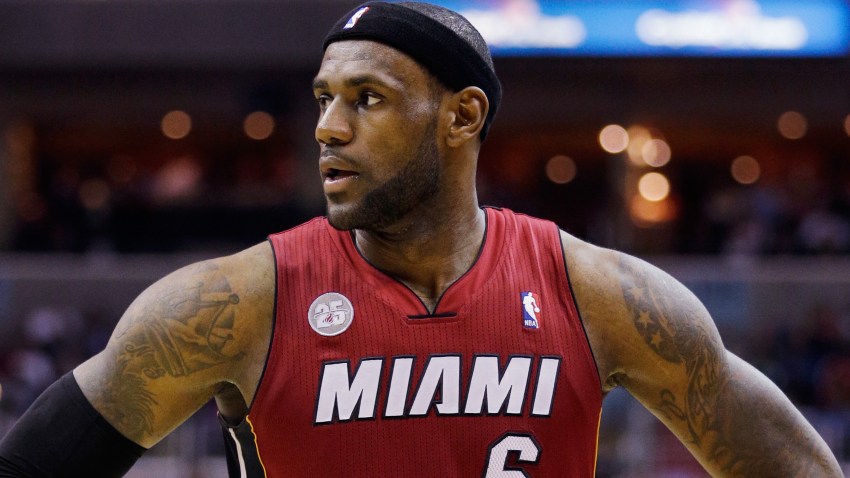 Despite being born, raised and employed in Ohio through most of his life, LeBron James is an unabashed Dallas Cowboys fan because that makes perfect sense.
James' Miami Heat were in town Tuesday losing to the Washington Wizards and Redskins quarterback Robert Griffin III, the guy that just beat the Cowboys on Thanksgiving, was also in attendance.
Before the game, James had some kind words for Mr. Griffin.
"I think he's an unbelievable talent," James said. "I think he's a great quarterback. He doesn't play like a rookie at all. They've got a great one."
So of course, Griffin was later asked about James and his Cowboys fandom.
For those who can't listen, Griffin said that "[James] is a big Cowboys fan, but hopefully we can convert him."
After the game, RGIII tried, embracing James as the latter was leaving the court, but unfortunately, James' fandom was impenetrable, even for Black Jesus (though perhaps Griffin caused James to miss two late free throws, giving all fans in attendance free Chick-Fil-A sandwiches).
"No," James said when asked if he could be transformed into a 'Skins fan. "But I'm a fan of his, though. He's an unbelievable talent. I like to watch him play."
"I understand you are a Cowboys fan," Griffin later tweeted. "But still great meeting you and much love for showing respect where respect is due."
---
Follow Adam on Twitter @AdamVingan and e-mail your story ideas to adamvingan (at) gmail.com.