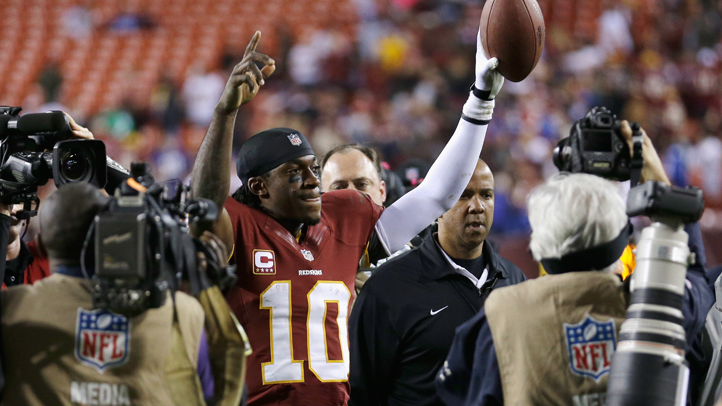 It's Wednesday -- three days removed from the Redskins' overtime victory against the Ravens and four days before they take on the Browns in a must-win game. The biggest story remains Robert Griffin III's sprained right knee and his prognosis for Sunday.

For those of you who don't want to see rookie backup Kirk Cousins on the field, here's some good news: Despite Pierre Garcon suggesting that Cousins would start this week, Griffin hasn't yet been ruled out by the team. More than that, RGIII's father Robert Griffin Jr. (or, RGII, as it were) said that he fully expects his son to start against Cleveland.

"He's doing great,'' Griffin Jr. told USA Today's Jim Corbett on Tuesday. "He definitely said he plans to start. I haven't seen him [the last two days]. But he told me [today] everything has gone well.''

RGIII isn't a board certified physician (we don't think), but he knows his body. That doesn't mean he's guaranteed to suit up, but it's an encouraging sign. Griffin admitted that his knee had some mild swelling the night of the injury but has responded to treatment in recent days.

"He's doing rehabilitation as far as the impact pain working with that,'' Griffin's father said. "Monday he said he felt really good. Today he felt better. Every day he's getting better. Monday he had no problems and throughout the workout, he had no problems.''

Griffin almost certainly won't be 100 percent by kickoff, in which case the question becomes: Does a less-than-healthy RGIII give Washington a better chance to win than a perfectly healthy Kirk Cousins?
We wrote about this Tuesday and, well, it's complicated.

On one hand, the 'Skins aren't in control of their playoff destiny; they have to win out and hope for help. Griffin, even at, say, 75 percent, gives them their best chance to win. On the other hand, what's the contingency plan if Griffin does play, the injury gets worse, and then he's sidelined for weeks instead of days? Coach Mike Shanahan and Washington's medical staff has some tough decisions to make.

In the meantime, Griffin's dad makes a suggestion that everyone can get behind.

"Hopefully, he'll let the running back do all the running,'' he said before adding: "I was with him, so I knew he was OK. There was some immediate swelling. But they took care of the pain management.''
For now, we wait.