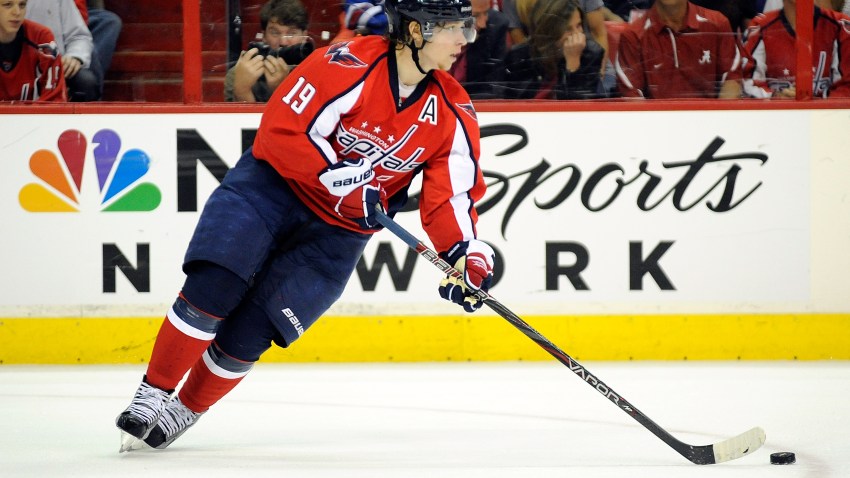 UPDATE: The deal has been confirmed.
Washington Capitals forward Nicklas Backstrom has signed with Dynamo Moscow of Russia's Kontinental Hockey League (KHL), according to reports.
Backstrom will be reunited with teammate Alex Ovechkin, who signed with his former Russian club last month just days after the NHL locked out its players for the third time in the last 18 years.
"I want to play hockey and this will be a fun challenge," Backstrom said to Swedish news outlet SVT Sport, adding that it was Ovechkin who convinced him to play overseas.
These developments come one day after Backstrom expressed incredulity over a rumor regarding his plans.
"Oh, I didn't know about that," he said Wednesday at Kettler Capitals Iceplex. "KHL? Yeah, we'll see about that."
The 24-year-old Swede missed 40 games last season with a concussion, but appeared in 13 of Washington's 14 postseason games (he was suspended for Game 4 of the Caps' first-round series against the Boston Bruins after receiving a match penalty at the end of Game 3).
"I feel good," Backstrom said. "I was a little down last year after I came back from my concussion. I feel good now. I'm skating every week and I feel all right. I just want to start playing again."
Backstrom is the sixth Cap to sign elsewhere during the NHL lockout, joining Ovechkin, Michal Neuvirth (Czech Extraliga), Joey Crabb (ECHL), Brooks Laich (Swiss National League A) and Wojtek Wolski (Polish League).
How long Backstrom stays in Russia, however, could be decided Thursday afternoon. The NHL and NHLPA are scheduled to meet in Toronto, where the union will "respond" to the proposal that the NHL made Tuesday. The meeting will go a long way in determining if or when the 2012-13 season will begin.
---
Follow Adam on Twitter @AdamVingan and e-mail your story ideas to adamvingan (at) gmail.com.