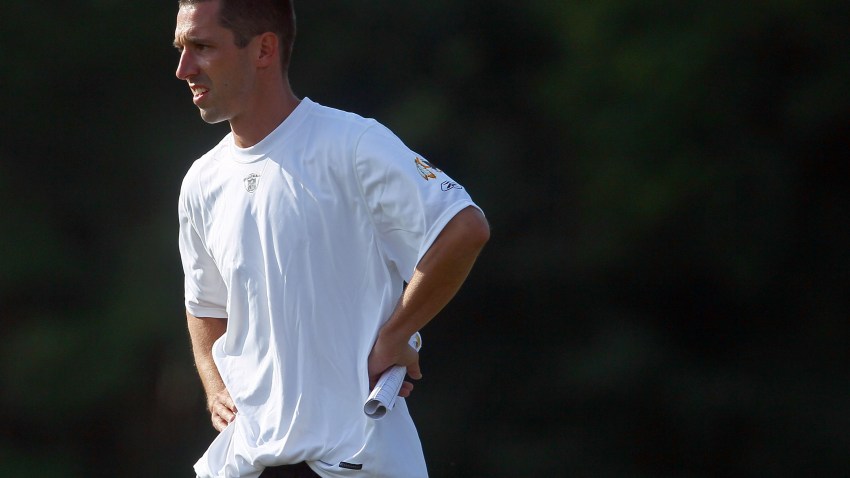 Washington Redskins offensive coordinator Kyle Shanahan has been fined $25,000 by the NFL for berating officials at the end of Sunday's 38-31 loss to the Cincinnati Bengals, according to ESPN's Adam Schefter.
Shanahan received an unsportsmanlike conduct penalty in the waning seconds of the fourth quarter after arguing with an official about a false start penalty called on Redskins tight end Fred Davis. According to Shanahan in a statement released by the team Monday, he "tried to explain that the game was not over," which "is what resulted in the unsportsmanlike conduct penalty."
After the game officially ended (dropping Washington's record to 1-2), Shanahan chased down the referees in the tunnel leading to the Redskins' locker room and delivered a profanity-laced tirade (a report from ESPN 980 includes what Shanahan supposedly said).
"I was frustrated, and in the process of trying to get some answers from the officials, I conducted myself in the wrong way," Shanahan said in the statement. "I ask our players to hold themselves to a high standard and be accountable and I know that I'm accountable for my actions as well."
"I know that I need to handle those situations better in the future. My emotions got the best of me and I know its my responsibility. This will never happen again."
Replacement referees have become a lightning rod for criticism during the NFL's first three weeks of action, particularly in the Seattle Seahawks' 14-12 win over the Green Bay Packers Monday. The NFL's unionized officials are currently locked out as they attempt to renegotiate their collective bargaining agreement.
---
Follow Adam on Twitter @AdamVingan and e-mail your story ideas to adamvingan (at) gmail.com.