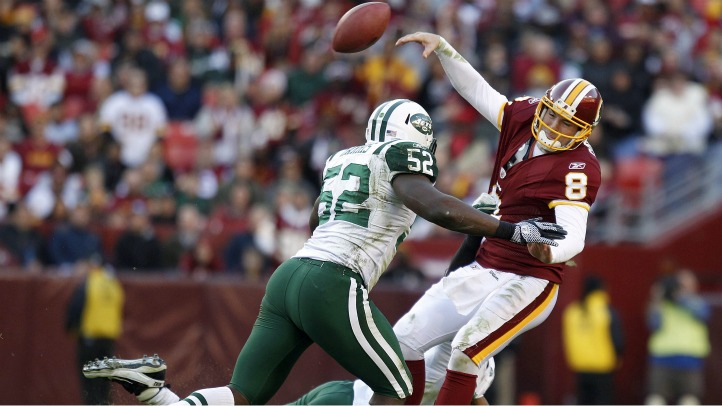 Don't look now, but someone forgot to tell the Redskins the game is 60 minutes long.
It's been a recurring theme – Washington has played well in stretches this season only to collapse at all the wrong times, and it cost them dearly in a 34-19 loss to the Jets on Sunday.
The Redskins offense began the game with a touchdown to cap an eight-play, 82-yard drive. For the first time since 2009, they had opened back-to-back games with seven points. Slow starts – once a staple of the Kyle Shanahan offense – were suddenly a thing of the past.
But 10 points in their first two possessions did nothing except delay the heartache as the Redskins went into their obligatory stupor in the third quarter, amassing a mere 11 yards of offense. Then the hangover effects from the offense's uninspired play translated to the defensive side in the fourth quarter.
The Jets racked up 21 points, including a backbreaking 30-yard touchdown from Mark Sanchez to Santonio Holmes. Two late turnovers doomed any hopes the Redskins had of a comeback.
"We played good enough for three quarters, but in this league you got to play 60 minutes and we obviously didn't do that," said DeAngelo Hall.
It was almost good enough though after Graham Gano's 43-yard field goal gave Washington a 16-13 lead with 7:52 to play. However Sanchez, erratic throughout the game, made a big throw when it mattered to keep the Jets in the playoff hunt. One Rex Grossman fumble later and the Redskins were on the ropes again, experiencing the all-too familiar sting of losing.
Making it even more embarrassing was the final 14 points the Jets piled on after taking the lead. New York scored three touchdowns in the final five minutes of the game and sent the Redskins reeling into the home stretch of another disappointing season.
"A lot of things hurt with the way we finished…it just looks bad and statistically a lot of things hurt," said Barry Cofield. "It's a lot to learn from. We got to respond next week. No one's going to feel sorry for us and we got to get better."
Kevin Barnes, visibly upset on the sideline after being flagged for unnecessary roughness late in the third quarter, was of like mind.
"It's even worse that they weren't trying to run up the score," he said. "We were just breaking down the last few drives and you can't do that as a professional."
The blame isn't solely on the defense though. Mike Shanahan has supported his struggling offense all season, but on Sunday he didn't mince his words concerning their performance.
"I just thought we were very average collectively on offense," he said. "We started out good and for whatever reason we lost – I wouldn't say our poise – but they got the job done and we didn't."
And right at the top of the list of principal offenders was none other than Grossman. The Redskins had a golden chance to score a touchdown at the end of the first half, but he was flagged for intentional grounding, called two timeouts in a row to take another penalty and then threw three near-interceptions before a Graham Gano field goal.
Grossman didn't complete a pass in the third quarter and the Redskins squandered a promising start, spoiling a game that should having ended in victory.
"As an offense we have to capitalize on opportunities and we didn't," said Santana Moss. "You know, we can't get comfortable. I tell myself that a lot, 'you can't get comfortable.' You got to always look forward to making more plays and I guess we was just short in that department."
It's been that kind of year in Washington.