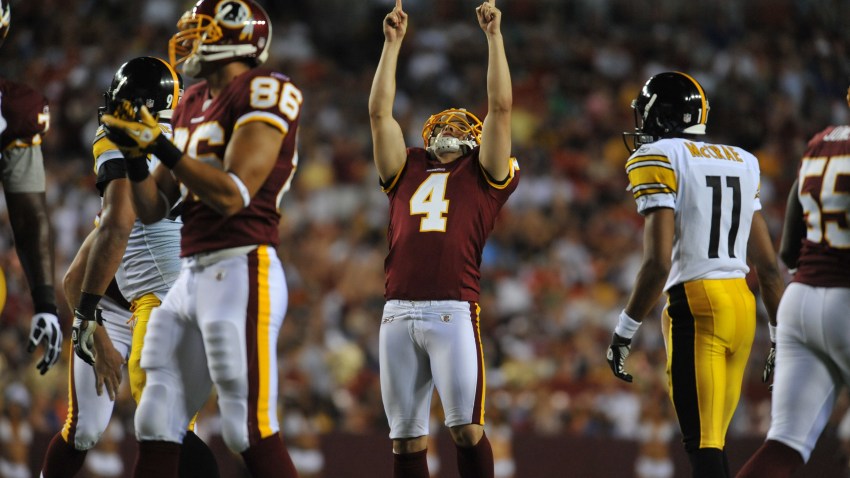 Now that the dust has settled following the Redskins 16-7 preseason win over the Steelers, it's time to determine the winners and losers as we draw closer to finalizing the 53-man roster:
Brandon Banks' injured knee is a major concern, but once again he is one of the most electrifying players on the field whenever he touches the ball. Banks returned a kickoff 58 yards -- no easy feat with the new rules -- and had a nifty 19-yard punt return.
The Redskins will have to decide if Banks is worth keeping around when he only touches the ball a handful of times per game. Granted each time he's a threat to score, but he isn't an option at receiver.
That doesn't help his case since the Redskins currently have 11 wideouts on the roster. But Banks is making it difficult to say no, and he also has a ringing endorsement from special teams coach Danny Smith.
Last week, Terrence Austin mentioned he wants to be recognized by the coaching staff as one of the more dependable, versatile players on the team. Well, he covered and returned kicks and also caught two passes to round out what was a solid week for last year's seventh-round draft pick.
Austin has a long way to go due to depth at the receiver position, but he made a strong case for the No. 6 receiver spot should Mike Shanahan choose to keep that many.
Stephen Bowen had a nice debut, picking up a sack and pairing with Barry Cofield and Adam Carriker to form what looks to be a much-improved defensive line. All three command attention, and with Jarvis Jenkins coming off the bench, opposing offensive lines will have some trouble with this front.
Evan Royster wasn't on many people's radars heading into this game, but he carried the ball before fellow rookie Roy Helu and had 15 carries for 66 yards plus a decent night in blitz pickup. He'll need similar games throughout the preseason if he wants to crack the final roster.
Graham Gano didn't even need to make all three of his field goal attempts to outshine Shayne Graham. He did anyway to secure the placekicking position he was competing for. Graham was cut on Sunday after missing two field goals, including a 29-yarder.
That's the good. Now for the five players who didn't do themselves any favors on Friday night:
Ryan Torain missed the game with a broken hand. His absence proved costly since Royster and Tim Hightower both ran wild over the Steelers defense. The Redskins racked up 140 yards on the ground without Torain. That certainly doesn't help his job security. Throw in the fact he hasn't ever been healthy and it could be an uphill battle for one of 2010's bright spots.
John Beck took most of the first team snaps in the opening week of training camp, but missed Friday's game with a groin injury. Meanwhile Rex Grossman and Kellen Clemens combined for 312 passing yards and no turnovers.
Mike Shanahan told reporters Beck will get his chance, but nothing he's shown thus far indicates he's a better option than Grossman.
Opportunity often knocks at Fred Davis' door, but ever since the tight end's breakout in the second half of 2009, he hasn't done much to further assert himself. He dropped a key third down pass in the second quarter and only caught one pass for 11 yards.
Davis isn't much of a run blocker and he hasn't been the same threat in the red zone he was in 2009. He's talked about becoming a better student of the game, but Davis is running out of time to prove himself to this coaching staff.
Kevin Barnes is an athletic defensive back who isn't afraid to help out in run support and can be productive when put in the right spots. Unfortunately, nickel corner is not a position Barnes is comfortable with and that's where the Redskins need him.
Mike Wallace blew by him on Pittsburgh's first series and Barnes generally looked lost covering receivers in the slot. He's better suited to the outside, although he did record a sack from the nickel corner position.
For all of the tools Leonard Hankerson possesses, his hands have been suspect for much of training camp. Nothing changed on Friday as he dropped two more passes.
The rookie out of Miami is oozing with potential and he has the frame to be a dominant receiver, but he'll have to straighten himself out mentally if he wants to make an impact this season.