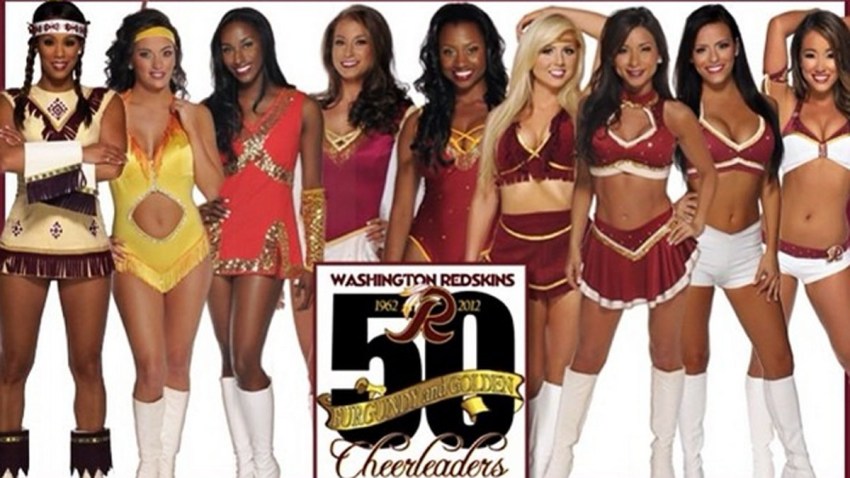 Following the cancellation of six of their trademarks last week, the Washington Redskins may be under more pressure than ever to change their polarizing moniker.
Team owner Dan Snyder has famously said he will never change the name of the team. "NEVER -- you can use caps," he told USA Today last year.
That being said, it might not have been the best idea for the team's Instagram account to post a picture Tuesday chronicling the history of their cheerleading uniforms, which in the past featured fairly obvious caricatures of Native Americans.
In response, some Instagram users suggested that the inclusion of the Native American costumes may not have been a good idea.
"Probably not the best pic to post right now. Do you really want to double down on that Indian imagery? #tonedeaf," wrote user djnva.
The costumes in question have not been in use since the early 1970s.
In 1972, a group of American Indians who objected to the team name visited team president Edward Bennett Williams. The petitioners' legal brief pointed out that afterward Williams took steps to remove some of the mocking references to American Indians in the team's traditions. The team changed the original lyrics to its fight song and, the brief says, "announced that the cheerleaders would no longer wear the black-braided hair wigs."

It should be pointed out that one of the six trademarks canceled by the U.S. Patent Office was "Redskinettes."
This wasn not the first time in recent weeks that the team's social media accounts has caused a stir. Last month, the Redskins urged Twitter followers to tweet at Sen. Harry Reid to voice their support for the team using the hashtag #RedskinsPride, but the move backfired.
---
Follow Adam on Twitter @AdamVingan and e-mail your story ideas to adamvingan (at) gmail.com.